'Pan' Trailer: Every Kid Needs A Visually Lavish Backstory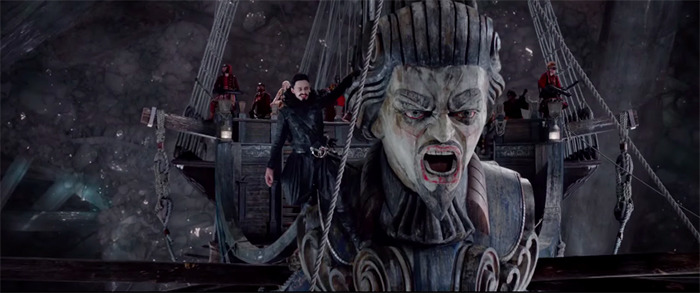 The story of Peter Pan is reconfigured in Pan, from Atonement and Hanna director Joe Wright. While J.M. Barrie's most well-known creation, the Boy Who Wouldn't Grow Up, is a perpetually immature child, there's still room in his youth for a backstory.
And this version of Peter seems quite different, with — at least briefly — a strong sense of purpose and determination. See him in action along with Garrett Hedlund as a young James Hook, Rooney Mara as Tiger Lily, and Hugh Jackman as Blackbeard (who even has a ship that bears his own face) in the new Pan trailer.
I've tried to keep an open mind with respect to Pan, mostly because of Joe Wright's history. But so far I can't tell if this is truly not a film for me, or if it's just the marketing that seems so flimsy and disagreeable. So far, it's difficult to pin down just what this movie is — there's a bit of Harry Potter, some Pirates of the Caribbean, and more than a splash of Disney's recent live-action fairy tales.
It's difficult to believe that Joe Wright would spend years on a film that is as thin as a patched-together backstory no one asked for. So fingers crossed that there's a lot more here than we can see right now. There's certainly no shortage of spectacle here, and we can guess that there's even more eye-candy in the final film than we get in this two and a half minutes.
Pan opens on October 9. Trailer via Warner Bros.
From director Joe Wright ("Atonement," "Pride & Prejudice") comes "Pan," a live-action feature presenting a wholly original adventure about the beginnings of the beloved characters created by J.M. Barrie. Peter (Levi Miller) is a mischievous 12-year-old boy with an irrepressible rebellious streak, but in the bleak London orphanage where he has lived his whole life those qualities do not exactly fly.  Then one incredible night, Peter is whisked away from the orphanage and spirited off to a fantastical world of pirates, warriors and fairies called Neverland.  There, he finds amazing adventures and fights life-or-death battles while trying to uncover the secret of his mother, who left him at the orphanage so long ago, and his rightful place in this magical land.  Teamed with the warrior Tiger Lily (Rooney Mara) and a new friend named James Hook (Garrett Hedlund), Peter must defeat the ruthless pirate Blackbeard (Hugh Jackman) to save Neverland and discover his true destiny—to become the hero who will forever be known as Peter Pan.