LOL: Anna Kendrick Is Indiana Jones For Red Nose Day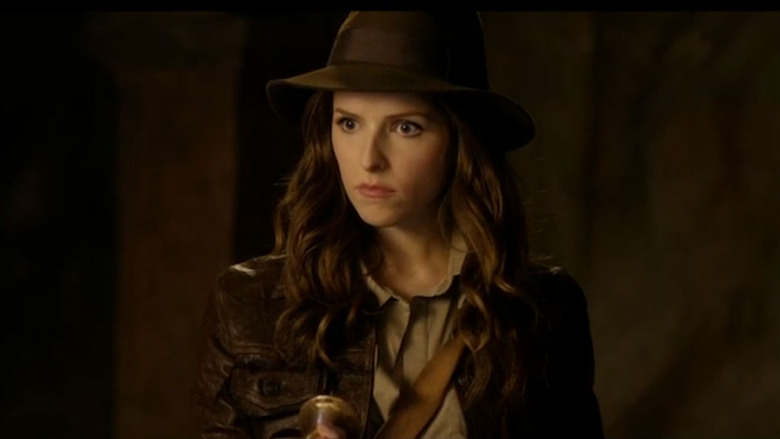 This Thursday, NBC will air a massive star-studded comedy event for Red Nose Day. Its aim is to raise money for children of poverty in the United States and the guest list is a who's who of worldwide celebrity. The show will feature all kinds of comedy skits and one that made its way online early features Pitch Perfect 2 star Anna Kendrick remaking Indiana Jones and the Last Crusade. Check out the Anna Kendrick Indiana Jones video below.
Thanks to NBC for the video.
Anna Kendrick Indiana Jones
Funny stuff. I'd pay to see Kendrick take over the role. What about you?
Here's the latest info on Red Nose Day:
More stars are joining NBC's star-studded charity event 'Red Nose Day' onThursday, May 21 (8-11 p.m. ET) to have fun, raise money and change the lives of children living in poverty in the U.S. and in some of the poorest communities around the world.  Richard Gere, Jimmy Fallon, Jennifer Garner, Keith Urban, John Mellencamp, One Direction, Zac Efron, Helen Mirren, Robert Pattinson, Liam Neeson, Rose Byrne and Nick Cannon will appear, along with Matt LeBlanc, Hugh Bonneville, Dame Diana Rigg, Kyle MacLachlan, Elisabeth Moss, 'Saturday Night Live" cast members Jay Pharaoh, Colin Jost and Michael Che, Hoda Kotb, Gilbert Gottfried, Cheryl Burke, Nicole Scherzinger, Jeff Dye and Australian comedy sketch trio SketchShe.A sketch film documenting the creation of 'Game Of Thrones: The Musical,' written by Coldplay and featuring a number of the HBO show's cast members, will be one of the many highlights in 'Red Nose Day,' along with John Mellencamp and Keith Urban performing "Pink Houses." An enormously popular event in the U.K. that has raised more than $1 billion for charity over the last 30 years, 'Red Nose Day' is coming to America for the first time ever on May 21.  In addition to great comedy, videos produced by Funny Or Die, incredible music performances and almost 100 of Hollywood's favorite stars, the benefit event will also feature short appeals films that shed light on those in need.  Jack Black travelled to Africa to visit children in Uganda living on the streets, witnessing firsthand the devastating effects of preventable diseases at a hospital.  Blake Shelton visited a mobile health clinic in Los Angeles that is providing free, life-changing care to underprivileged children.  In Peru, Michelle Rodriguez met children having to work to survive and seeing how projects there are helping them get the education they need.Nick Cannon will appear on the special after attempting to dance for 24 hours straight with "Red Nose Day Danceathon with Nick Cannon," kicking off the night's festivities and streaming live on NBC.com beginning Wednesday, May 20. Previously announced stars slated to appear in the special include Julia Roberts, Will Ferrell, Jennifer Aniston, Reese Witherspoon, Julianne Moore, Jodie Foster, Neil Patrick Harris, Christina Aguilera, Pharrell, Adam Levine, Paul Rudd, Benedict Cumberbatch, Eddie Redmayne, Anna Kendrick, Simon Cowell and many more.  Richard Curtis is an executive producer for the NBC telecast (a Universal Television production), along with Hamish Hamilton and Ian Stewart of Done + Dusted Productions. Henrietta Conrad and Lily Sobhani will also serve as executive producers, as will Mike Farah, Anna Wenger and Joe Farrell from Funny Or Die. Hamilton will direct.About Red Nose DayRed Nose Day was created to raise money to help children and young people living in poverty in the United States and some of the poorest communities around the world.  The inaugural Red Nose Day will be held on Thursday May 21, 2015.  The day's events will culminate in a three-hour entertainment TV special on NBC, featuring the country's favorite comedians, musicians and Hollywood stars. Money raised will go to the Red Nose Day Fund, a program of Comic Relief, Inc., a registered 501(c)(3) public charity.  The Red Nose Day Fund will distribute the money raised by the Red Nose Day campaign to charity partners whose work helps to achieve Comic Relief, Inc.'s vision of a just world free from poverty.