Nicolas Cage Re-Teams With Paul Schrader For Crime Story 'Dog Eat Dog'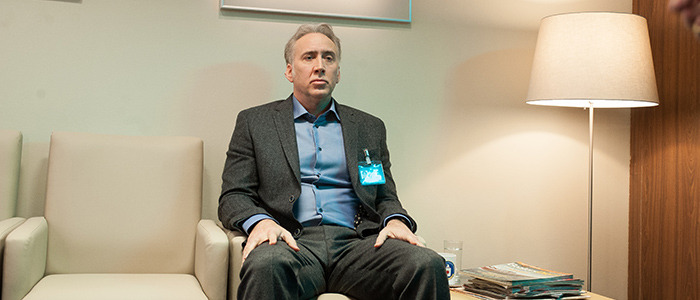 Paul Schrader wrote and directed The Dying of the Light, released in 2014, with Nicolas Cage in the lead role (above). But things went bad for the film, with Schrader and the producers falling into disagreement and the producers ultimately releasing a re-edited version of the film that is reportedly far from Schrader's original conception. Whether Schrader's version would have been better is open to question, but the story definitely got our attention.
Now Nicolas Cage and Paul Schrader are going back to work together on a new film. It's a crime picture called Dog Eat Dog, and this time Schrader has final cut.
Deadline reports Dog Eat Dog is based on the novel by real-life ex con and author Eddie Bunker — you've seen him playing Mr. Blue in Reservoir Dogs – with Scrader co-writing with Matt Wilder. The story follows three guys whose latest criminal job, a kidnapping targeting the baby , spins way out of orbit. The film will shoot beginning in October.
Here's info on the book:
Based on the suspense he generates in his fourth novel, it's easy to see why Bunker, an ex-con, has acquired such diverse admirers as Quentin Tarantino (who cast him as Mr. Blue in Reservoir Dogs) and William Styron (who contributes an introduction to this novel). This time around, the narrator is Troy Cameron, an upper-class Beverly Hills boy turned hardened criminal, who emerges from stints at reform school and San Quentin to join up with his buddies, Gerald "Mad Dog" McCain and Diesel Carson, in a haphazard scheme to steal from pimps, hustlers and other fellow criminals. Their first crime, a robbery in which they shake down a major L.A. drug dealer, goes smoothly, but the heat increases on their second assignment, a revenge crime in which a Mexican prison lord offers them a fortune to kidnap the baby of a former companion who has shown him disrespect.
Schrader also talked about the project on Facebook:
AND THIS TIME I HAVE FINAL CUT. After the debacle of "Dying of the Light," a film I wrote and directed which Nic starred in, a film which was taken from me, recut, scored and mixed without my input, then dumped by a division of Lionsgate appropriately named Grindstone, an experience marked by demeaning behavior, duplicitousness, venality, artistic vulgarity and flatout stupidity, Nic and I spoke. "If it is possible in our lifetimes we should make this right," I said. "We should work together again and get it right." "Absolutely," he replied. Well, that opportunity arose and this time I'm with people I trust and who respect me and have given me final cut. And what an opportunity! A high octane script by Matt Wilder from a Ed Bunker novel described by the Evening Standard as "the angel dust of crime fiction." It's on us now. Stay tuned.