'Steve Jobs' Teaser Trailer: Michael Fassbender Invents The Future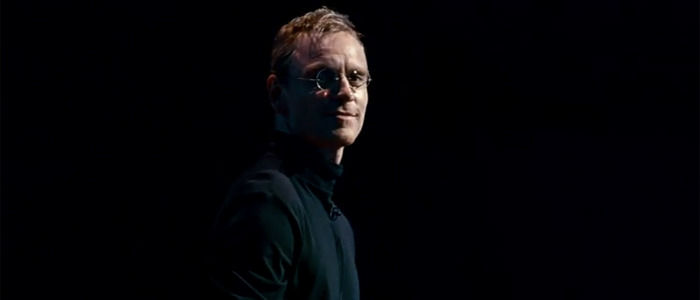 So far, all we've seen are photos with Michael Fassbender playing the titular Apple co-founder in Danny Boyle's forthcoming biopic Steve Jobs. But today that changes as a brief teaser trailer has just surfaced showing off the X-Men: Days of Future Past and Shame star as the late technology innovator, complete with glasses and black turtleneck. The teaser has a vibe similar to the first trailer for The Social Network. That's interesting, since David Fincher almost directed this film, and it still has a script from Aaron Sorkin.
Watch the Steve Jobs teaser trailer after the jump!
Here's the teaser trailer for Steve Jobs from Collider:
Each of the film's prominent stars, Seth Rogen as Apple co-founder Steve Wozniak, Kate Winslet as former marketing chief of Macintosh, Joanna Hoffman, and Jeff Daniels as former Apple CEO John Sculley, get a quick voiceover line about Jobs. It's all a brief glimpse into the clash Jobs has with his colleagues as he has dreams of changing the future of technology. As he says in the trailer, "The musicians play the instruments. I play the orchestra."
Even though this is just a teaser trailer, I like this first glimpse of the movie, and it seems like it's going to be very good. Here's the official synopsis:
Set backstage at three iconic product launches and ending in 1998 with the unveiling of the iMac, STEVE JOBS takes us behind the scenes of the digital revolution to paint an intimate portrait of the brilliant man at its epicenter.
STEVE JOBS is directed by Academy Award® winner Danny Boyle and written by Academy Award® winner Aaron Sorkin, working from Walter Isaacson's best-selling biography of the Apple founder.  The producers are Mark Gordon, Guymon Casady of Film 360, Scott Rudin and Academy Award® winner Christian Colson.
Michael Fassbender plays Steve Jobs, the pioneering founder of Apple, with Academy Award®-winning actress Kate Winslet starring as Joanna Hoffman, former marketing chief of Macintosh.  Steve Wozniak, who co-founded Apple, is played by Seth Rogen, and Jeff Daniels stars as former Apple CEO John Sculley.  The film also stars Katherine Waterston as Chrisann Brennan, Jobs' ex-girlfriend, and Michael Stuhlbarg as Andy Hertzfeld, one of the original members of the Apple Macintosh development team.
Steve Jobs hits theaters this fall on October 9th.