Alamo Drafthouse 'Mad Max: Fury Road' PSA Wants You To Shut Your Face At The Movies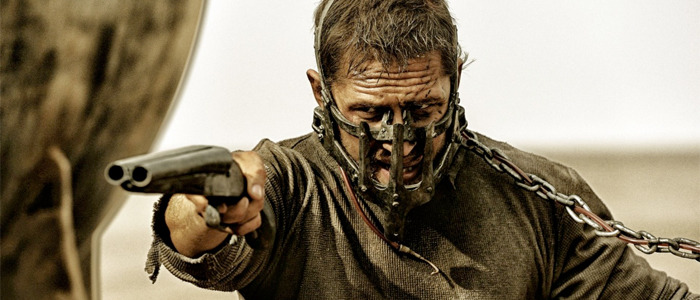 If you haven't headed out to see Mad Max: Fury Road this weekend (read our glowing review), then stop what you're doing right now, buy a ticket and get your butt to the mutliplex. This movie is now the blockbuster action extravaganza to beat. Pitch Perfect 2 will definitely top the film at the box office this weekend, as expected, but Mad Max: Fury Road is superior in every way. It's especially the kind of action movie female audiences can enjoy with some of the most badass ladies we've seen on the big screen in years getting a significant spotlight.
But if you go to the theater, Alamo Drafthouse has a new PSA featuring director George Miller and Mad Max villain Toecutter (Hugh Keays-Byrne) where they dramatically and effectively tell you to turn off your cell phone and shut it. Watch the Alamo Drafthouse Mad Max: Fury Road PSA after the jump!
Here's the stern new PSA, straight from Alamo Drafthouse:
And now that you've been reminded how to behave in a movie theater, again I implore you, go see Mad Max: Fury Road. This film has the best action you've seen in years. And what makes it even better is that most of the time it's hard to discern what was done practically and with visual effects. The computer generated wizardry isn't up in your face, save for one massive sandstorm tornado (but that's within the first 20 minutes or so). Otherwise, it's a legitimate non-stop thrill ride from beginning to end.
More importantly, the characters on display are rich and developed without rubbing your face in it. Charlize Theron as Imperator Furiosa is one of the strongest female characters that film has seen in a long time. We're talking a Sigourney Weaver as Ripley level of ass-kicking. And she's accompanied by tons more actresses as female characters who take their life into their own hands and don't need the male characters to rescue them. In fact, one might say that it's Max (Tom Hardy) who needs their help. But you need to go find that out for yourself.
If you're one of those viewers who feels like they can't enjoy Fury Road without having seen the previous three Mad Max movies, it's nothing to be concerned about. While there are fleeting references to characters and the world that was created before this film, it works magnificently (and in a refreshing way) as a standalone film that doesn't need previous films to set anything up. It also doesn't go out of its way to do any continued universe building for sequels that may or may not happen. And if you need anymore information beyond that, check out our own Russ Fischer's primer on the film with all the answers you need.
Will you go see Mad Max: Fury Road? Have you seen it already? Did you keep your mouth shut?