David Lynch Rejoins 'Twin Peaks' Revival, Series Expands Beyond Initial Order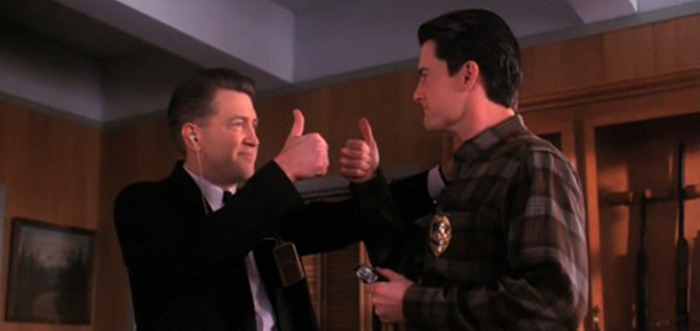 All week I've been thinking about Twin Peaks. As many TV networks and companies revealed their upcoming projects during upfront presentations in New York, I wondered if Twin Peaks was going to quietly disappear. Since Showtime doesn't take part in upfronts, it seemed like news wasn't likely to hit soon, but now we know that Twin Peaks isn't going anywhere. In fact, it is getting bigger.
Twin Peaks was revived with a bang by Showtime, which planned a nine-episode limited series to be co-written and directed by David Lynch. But six weeks ago Lynch quit the show via Twitter, surprising everyone involved. Now he has announced that he's back. Even more surprising: the show is now longer than nine episodes, and Lynch will direct it all. 
Lynch tweeted the first news.
Dear Twitter Friends, the rumors are not what they seem ..... It is !!!
Happening again. #TwinPeaks returns on @SHO_Network

— David Lynch (@DAVID_LYNCH) May 16, 2015
Mark Frost echoed Lynch's words.
Dear Twitter Friends, the rumors are not what they seem ..... It is !!!
Happening again. #TwinPeaks returns on @SHO_Network

— Mark Frost (@mfrost11) May 16, 2015
Then Showtime confirmed not only Lynch's return, but that the show would offer more than the original plan of nine episodes.
Showtime boss David Nevins said,
This damn fine cup of coffee from Mark and David tastes more delicious than ever. Totally worth the extra brewing time and the cup is even bigger than we expected. David will direct the whole thing which will total more than the originally announced nine hours. Preproduction starts now!!
That expansion from nine hours to... whatever it will be now might also give us some clues about the details that were sticking in negotiations with Lynch.
Lynch's exit seemed like he was basically negotiating in public, and Showtime said they were working on a deal to bring him back. Other talk said that the disagreements were more varied than simple contract negotiations, but it has been hard to pin down many truths. Perhaps the season length was among many points.
Back in April, David Nevins said, "It's either a negotiation, or he's had cold feet. But I am hopeful." That hope bore fruit.
Regardless, Lynch is back, and presumably that means the cast that rallied to have him return is also on board.
We know that Kyle MacLachlan was set to reprise the role of Agent Dale Cooper, and that Sheryl Lee, who played both Laura Palmer and Maddy Ferguson, Dana Ashbook, who played Bobby Briggs, and potentially Sherilyn Fenn, who played Audrey Horne, would return as well.
Given that the cast video mentioned above was put together by Mädchen Amick, it's probably safe to guess that her character Shelly Johnson will be seen again, too.
The scripts for the show, written by Lynch and Frost, have been turned in, and so if all the contract disputes and weirdness have been settled, the show can shoot for its 2016 debut.