'The Mindy Project' Gets Rescued By Hulu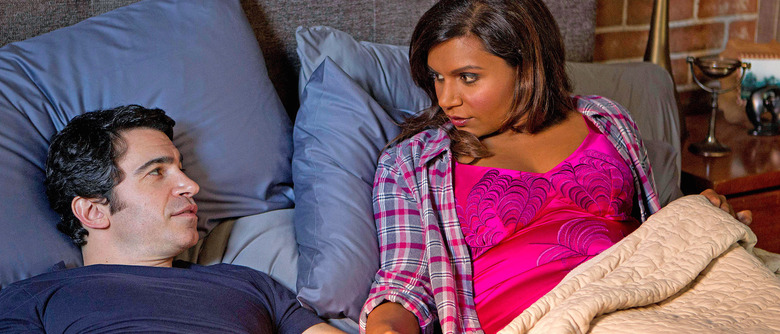 The Mindy Project will be back, and bigger than ever. Although Fox cancelled the comedy earlier this month, Hulu has now come to the rescue, scooping it up for a fourth season to consist of 26 episodes. Hit the jump for more on the Mindy Project Hulu move. Hulu announced the news today. It doesn't come as a huge surprise. The streaming site entered talks to take over The Mindy Project earlier this month, right after Fox gave it the axe.
"Mindy has always been a beloved member of the Hulu family and we know her millions of fans will be eager to find out what Mindy still has in store for the next chapter," said Hulu in a statement.
Mindy Kaling will return as OB/GYN Mindy Lahiri in the new season, joined by Chris Messina, Ed Weeks, Ike Barinholtz, Beth Grant, and Xosha Roquemore. Adam Pally departed the show in Season 3.The Mindy Project debuted in 2012 with 4.6 million viewers, but the number fell to just over 2 million by this spring's Season 3 finale. Nevertheless, the fans who are still watching The Mindy Project have been loyal.
In that way, it's similar to a lot of other shows that have shifted from network TV to streaming. Like Community, which moved to Yahoo for Season 6 after NBC decided to cut it loose. Or even Arrested Development, which was resurrected on Netflix seven years after Fox canned it.
While The Mindy Project is the only network series so far this season to get revived, several others (including NBC's Constantine) are still seeking new homes.
The Mindy Project feels like a natural fit for Hulu's growing original programming slate. The site picked up all previous episodes of the show in a deal last year, and according to them it's been a "top show" among their subscribers ever since.
Besides The Mindy Project Season 4, Hulu also has J.J. Abrams' 11/22/63, Amy Poehler's Difficult People, Jason Reitman's Casual, and Jason Katims' The Way coming up. But so far Hulu hasn't managed to garner the same buzz that competitor Netflix has.
A premiere date for The Mindy Project Season 4 has not been set. Watch a brief promo announcing the move below: