Is The Hulk In 'Captain America: Civil War'?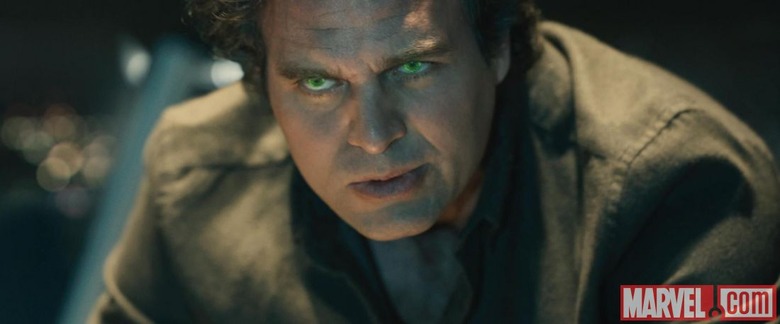 Although it's billed as a Captain America movie, Civil War at this point has a cast big enough to rival any Avengers team-up. Still, not every character in the MCU made it in, and one name that was conspicuously absent was Mark Ruffalo. Or so we thought. A recent post by Ruffalo suggests the Hulk may be joining his Avengers teammates for Captain America: Civil War after all. More about the possible Captain America Civil War Hulk casting after the jump. 
Ruffalo has been dropping hints all over social media. First, here's a tweet from him:
The Marvel family gets just a little bit bigger. http://t.co/0PnXdLhGTP @captainamerica #CivilWar

— Mark Ruffalo (@MarkRuffalo) May 14, 2015
That link takes you to Ruffalo's official Tumblr site, which then links to Marvel Studios' official press release about the start of production on Captain America: Civil War. On Tumblr, Ruffalo writes:
Welcome to the wild party! Looking forward to this amazing cast.
Now, Ruffalo never actually comes out and says he's in Captain America: Civil War. It's possible this is just an innocent welcome the newest additions to the Marvel Cinematic Universe. (Or a not-so-innocent joke he's playing on fans.) But the wording could also be interpreted to mean he'll appear in the movie with them.
It's worth pointing out that one of the more surprising inclusions in Captain America: Civil War is General Thaddeus "Thunderbolt" Ross (played by William Hurt), who was a supporting character in The Incredible Hulk. And if he's getting caught up in the so-called Civil War, it's not hard to imagine Bruce Banner a.k.a. the Hulk getting involved, too.
The last time we saw Bruce Banner / the Hulk in Avengers: Age of Ultron (spoilers follow; skip to the next paragraph if you don't want to know), he was running away in a jet. His Hulk-out in Johannesburg has made it clear to him and to the rest of the world that he's very dangerous, and besides that he was worried about hurting his lady love Black Widow. In short, we don't really know where he is right now, let alone where he'll be by the time Captain America: Civil War kicks off. (End spoilers.)
If Ruffalo is indeed in Captain America: Civil War, that means Thor (Chris Hemsworth) will be the only Avenger left out. Cap (Chris Evans), Iron Man (Robert Downey Jr.), Black Widow (Scarlett Johansson), and Hawkeye (Jeremy Renner) are all back from Avengers: Age of Ultron, as are Scarlet Witch (Elizabeth Olsen), Vision (Paul Bettany), Falcon (Anthony Mackie), and War Machine (Don Cheadle).
Returning from Captain America: The Winter Soldier will be Crossbones (Frank Grillo), Bucky (Sebastian Stan), and Sharon Carter (Emily VanCamp). Ant-Man (Paul Rudd), who makes his MCU debut this summer, is also on board. And characters who'll make their MCU debuts in Civil War include Black Panther (Chadwick Boseman), Baron Helmut Zemo (Daniel Brühl), Spider-Man (TBA), and whomever Martin Freeman is playing.
Captain America: Civil War opens May 6, 2016.
"Captain America: Civil War" picks up where "Avengers: Age of Ultron" left off, as Steve Rogers leads the new team of Avengers in their continued efforts to safeguard humanity. After another international incident involving the Avengers results in collateral damage, political pressure mounts to install a system of accountability and a governing body to determine when to enlist the services of the team. The new status quo fractures the Avengers while they try to protect the world from a new and nefarious villain.