Mondo Gallery Opens 'Jurassic Park' Art Show June 12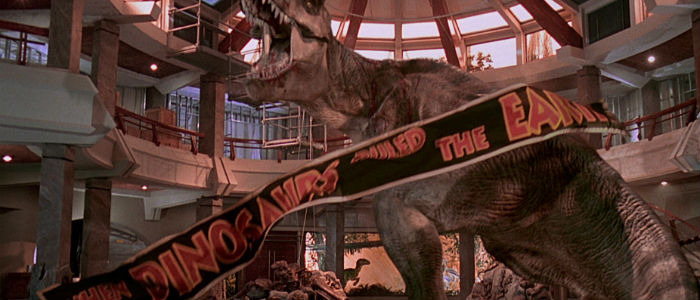 On June 12, you can see Jurassic World in theaters everywhere and say "Welcome...to the Mondo Gallery" in Austin, TX. There, they'll be hosting a full gallery show filled with art based on Steven Spielberg's blockbuster, Jurassic Park. It's called When Dinosaurs Ruled The Earth and features original works and screenprints based on the film by artists such as Aaron Horkey, Ken Taylor, Dan McCarthy, Jock, Jason Edmiston, Brandon Holt and others. The Jurassic Park art show opens at 7 p.m. June 12 and remains on display through June 27. Below, see the first piece of preview art and read the full artist list.
The Jurassic Park art show "When Dinosaurs Ruled the Earth" takes place at the Mondo Gallery, 4115 Guadalupe Street, Austin, TX. The opening reception is from 7-10 p.m. June 12 and it remains on display through June 27. Visit this link for more info.
Here's the first piece revealed from the show by Francesco Francavilla: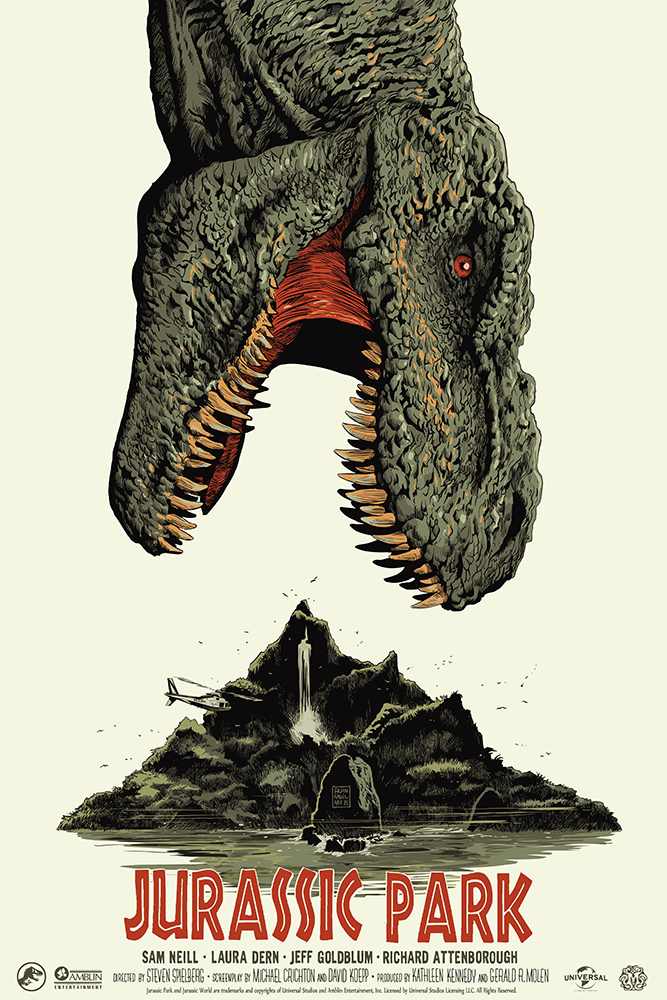 In the past Mondo has released a bunch of different, official Jurassic Park prints but none of them have had the actors on it. For this show, they would not reveal whether or not they'll be able to put actors like Sam Neill, Laura Dern or Jeff Goldblum on posters. They want to keep that reveal a secret.
Here's the full press release and artist list:
The films offer a rich world of colossal dinosaurs, gorgeous tropical landscapes and iconic characters for artists to draw their inspiration from. The title of the show "When Dinsoaurs Ruled The Earth" references the climactic scene of Jurassic Park when the T-Rex triumphantly reclaims her dominance at the top of the food chain, making the past tense of that falling banner's copy ominously incorrect. Now 65 million + 22 years later, dinosaurs are getting their first fully functioning theme park in Jurassic World with all of the terrible implications of how that will go perfectly wrong."Hosting an entire gallery exhibit of new Jurassic Park artwork is a dream come true for us. It has been over 20 years since the first film captured the imagination of the entire planet and we hope to recreate some of the wonder and excitement of the franchise with this show," said Mondo CEO Justin IshmaelMondo will also offer a limited pressing of the previously sold out Jurassic Park original motion picture soundtrack on Dino DNA Splatter vinyl. The first poster reveal from the show is from artist Francesco Francavilla, depicting the awe-inspiring T-Rex ready to take a bite out of a certain island off the coast of Costa Rica with its inverse composition alluding to another famous Steven Spielberg movie poster featuring a toothy maw.The following artists will be represented at "When Dinosaurs Ruled The Earth." Remaining prints and original works will go on sale at MondoTees.com at a future date. Follow @MondoNews for more art reveals and information leading up the show! For more information on the gallery, visit MondoTees.com.Dan BlackFrans BoukasBecky CloonanSam Wolfe ConnellyDKNGJason EdmistonJames FlamesFrancesco FrancavillaKen GardunoNicole GustafssonBrandon HoltAaron HorkeyJockRich KellyKilasThe Little Friends of PrintmakingDan McCarthySeb MesnardDrew MillwardGary PullinArik RoperNeal RusslerTiny Kitten TeethTodd SlaterStan and VinceKen TaylorJohn VoglTeagan WhiteErica WilliamsNC WintersWocco
Mondo fans will notice that several names on the list, such as Aaron Horkey and Ken Taylor, have already done Jurassic Park posters. Well, according to Mondo, everyone listed above has new work in the show. Whether that work is a print or original, however, we won't know until June 12.