Nicole Kidman Joins Neil Gaiman Adaptation 'How To Talk To Girls At Parties'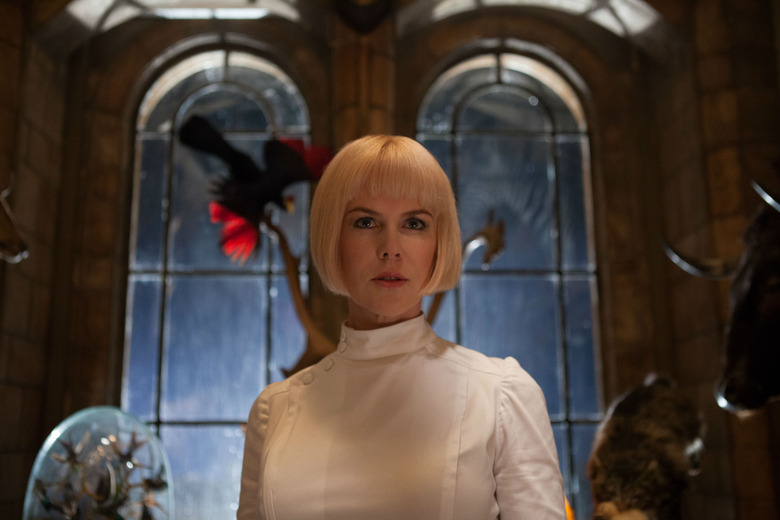 The title "How to Talk to Girls at Parties" brings to mind something very specific, yet this movie is not at all what you think it's going to be. Clue one: it is based on a short story by Neil Gaiman, the writer behind Sandman and Stardust. Clue two: it'll be co-written and directed by John Cameron Mitchell, the creator of Hedwig and the Angry Inch and, most recently, the director of Rabbit Hole. That heartbreaking film starred Nicole Kidman and she'll reteam with the director for this one. So what's it about? It's a musically charged, Romeo and Juliet-influenced, love story involving punks and aliens.
As previously reported, Elle Fanning is still attached, and they'll be joined by Matt Lucas and Ruth Wilson. Read more about How to Talk to Girls At Parties below.ScreenDaily broke the How to Talk to Girls At Parties news. They say Kidman is in "advanced talks," which sounds pretty definite. The deal came together at the Cannes Film Festival.How to Talk to Girls at Parties was originally a short story in Gaiman's 2006 collection Fragile Things. In the film version, which is slightly streamlined, Fanning will play an alien rock star touring the galaxy who breaks away and ends up in a London suburb called Croydon. There she meets a boy.
Shooting will likely start this Fall and producer Howard Gertler said the following about the project:
This is a story that appeals to teens and adults, something John and Neil Gaiman's work also achieves, and that is why it's such a good fit.... John compares it to Romeo and Juliet, except instead of Montagues and Capulets we have punks and aliens.
As wonderful as Kidman and Fanning are as actresses, what really gets me excited for this film is John Cameron Mitchell. Hedwig and the Angry Inch is a legitimate masterpiece and Rabbit Hole was deeply affecting. He doesn't direct a lot so if there's a project he's passionate about, especially one that seems as weird as this one, I'm totally in.
What are your think about How to Talk to Girls at Parties?