Ricky Gervais' 'The Office' Spinoff 'Life On The Road' Gets Financing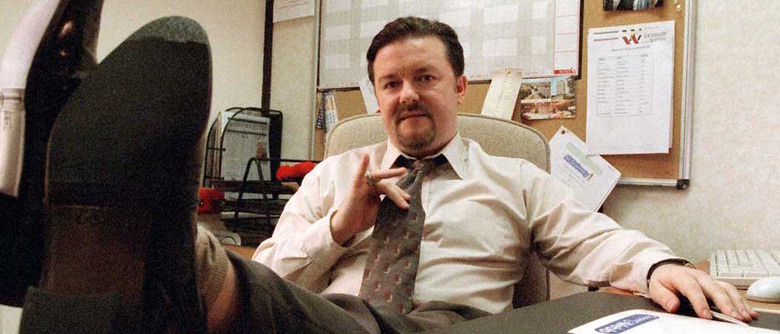 Everyone's favorite terrible boss is coming back. Ricky Gervais has just secured financing for Life on the Road, a spinoff film which will pick up with The Office's David Brent years after his stint at Wernham Hogg Paper. So what exactly has he been up to? Get the latest updates on the Ricky Gervais The Office spinoff after the jump. 
EW reports Entertainment One is partnering with BBC Films to back Life on the Road. Gervais will write, direct, and star. As the title suggests, it's a road movie of sorts. It turns out David Brent has been chasing his rock star dreams with his band "Foregone Conclusion," while holding down a day job as a traveling salesman for a cleaning products company.
In typical The Office fashion, Life on the Road sounds like a deliciously uncomfortable mix of comedy and tragedy. Gervais revealed some other details about the mockumentary film last year:
[H]e hasn't let go of this dream of being a rock star and he's got a lot of songs together and he's got a young band together that he's paying through the nose for and they're just sort of ripping him off. They're sort of session musicians so he's losing money. He has to cash in a pension, he does a little tour he wants the record companies to come along too.
Obviously he thinks it's like Scorsese following the Rolling Stones around, this documentary team, but it's really sort of a Where Are They Now documentary and it's even sadder and tragic... I'm trying to do like Anvil did for real. It was sort of sweet and tragic... He's doing songs, it's almost a musical, really.
In the latest statement, Gervais promises that Life on the Road "delves much more into [David Brent's] private life than The Office ever did and we really get to peel back the layers of this extraordinary, ordinary man."
Although The Office aired its last episode over a decade ago, David Brent has lived on. Gervais reprised the role for a 2013 mini-episode titled The Office Revisited as part of the Red Nose Day fundraising event, as well as for the YouTube series Learn Guitar With David Brent.
Gervais is coming off of the TV series Derek, which is distributed through Netflix in the U.S., and which earned him an Emmy nomination last year. He's also currently working on a movie for Netflix titled Special Correspondents, which he'll write, direct, and star in.