'Neon Demon' First Look: Nicolas Winding Refn Bloodies Up Elle Fanning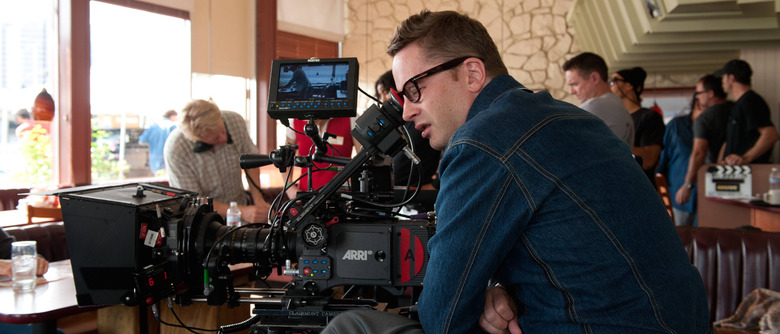 As Nicolas Winding Refn's The Neon Demon, described as "a horror film about vicious beauty," nears the end of shooting in Los Angeles, the first images have been released. Elle Fanning leads the cast as Jesse, an aspiring model who moves to LA and finds herself surrounded by beauty-obsessed women who'd kill for what she has.
Abbey Lee, Christina Hendricks, Jena Malone, Bella Heathcote, Desmond Harrington, Karl Glusman, and Keanu Reeves also star, but the Neon Demon first look images are all about our star. Take a peek after the jump.
[via Twitch]
The first still isn't much to look at. No surprise, Fanning looks lovely under those neon lights Refn loves so well. But things get a little weirder in the other promo shot, in which a glammed-up Fanning drips blood, her throat apparently slit, while Refn sits calmly beside her. It seems like a good representation of the movie's twisted vibe. "Vicious beauty," indeed.
As revealed by Refn's wife Liv Corfixen, The Neon Demon is inspired by Countess Elizabeth Báthory de Ecsed. During her reign of terror 400 years ago, she racked up enough kills to be considered the most prolific female murderer who ever lived. Legend has it she bathed in the blood of virgins to keep herself beautiful. That last part is considered by historians to be inaccurate, but it does make for a great story. Like, the kind of story that might make for a great Nicolas Winding Refn film.
In The Neon Demon, the bloodsuckers surrounding Jesse are desperate to take her youth and beauty for themselves. To do so, they're willing to resort even to voodoo and cannibalism. One of the main perpetrators is Sarah (Lee), described as a "cool ringleader" who wants to devour Jesse. Literally and figuratively, we're guessing.
The Neon Demon is expected to arrive in theaters next year.