Watch Three 'Avengers: Age Of Ultron' FX Reels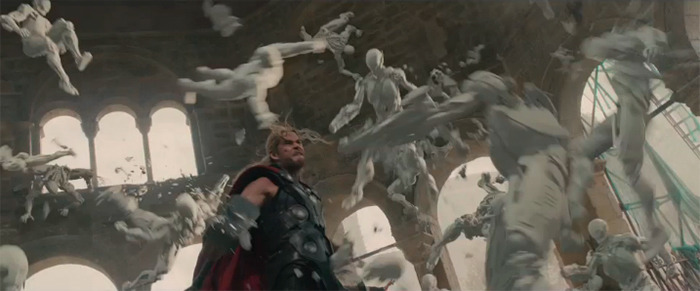 We're a couple weeks past the release of Avengers: Age of Ultron — far enough into the film's life for reaction pieces, reactions to the reactions, and more detailed looks at the film's place in the summer lineup, and culture as a whole.
But let's look at the film from a different angle: the FX work that helped create everything from huge setpieces to simple environments. (Hint: Some of those environments are actually anything but simple.) We've got a set of three Age of Ultron FX reels below. Note that spoilers for Age of Ultron are within, as some of the info we'll highlight features shots from the end of the film.
The best one is this FX reel from Method Studios.
[Or it was. Removed at Method's request.]
Method also offers a more specific breakdown of a few shots. Some talk of the end of the film explains how the last shots were built, and you can see images at the studio's site.
Method was also responsible for fully designing and creating the interior of the grandiose new Avengers training facility, seen in the film's final scenes. Method artists created the training facility completely digitally, extracting the Avengers characters from the original set and placing them into the new CG environment. The expansive facility includes, among other things, a state-of-the-art observation lab
Then there's this user interface reel, which focuses specifically on UI interfaces as seen in Age of Ultron:
Finally, in the event you haven't seen this one yet, Wired has its own effects breakdown, focused specifically on the Hulk and featuring genius details such as the fact that ILM gave Mark Ruffalo a laptop and camera setup which could translate his motions into Hulk animation in real-time. So he could test out performances off-set and see immediately how they would look as the Hulk.