'The Fugitive' Will Return To The Big Screen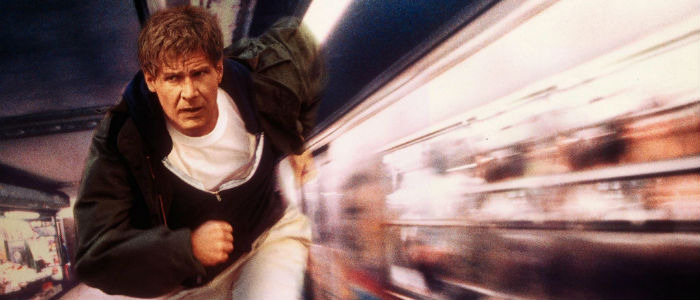 Dr. Richard Kimble will try to clear his name one more time on the big screen. Warner Bros. has hired Christina Hodson to write a new script for The Fugitive, the famous TV series turned blockbuster Oscar-winning film starring Harrison Ford and Tommy Lee Jones. The studio wants to have the film in production early next year. Read more about The Fugitive remake below.
Deadline broke the news of The Fugitive remake. The original series aired for four seasons starting in 1963 and followed a character named Dr. Richard Kimble (David Janssen), a doctor wrongly convicted of killing his wife. On the way to prison, his train derails and he goes on the run hoping to find the real killer: a one-armed man.
Thirty years later, Warner Bros. turned that series into one of the best TV-to-film adaptations ever. Harrison Ford starred as Kimble and Tommy Lee Jones as his primary adversary, a lawman on Kimble's trail who also begins to believe his innocence. Jones won an Oscar for his performance and the film was nominated for Best Picture, to go along with almost $400 million in box office. It spawned a Ford-less sequel, U.S. Marshals, in 1998.
The Deadline report oddly hints there's a possibility of Jones and Ford returning, which wouldn't make much sense, but who knows. Original producers Arnold and Anne Kopelson are returning though.
In my mind, we already have a pretty solid film version of The Fugitive. It's called The Fugitive. Remaking an already great movie feels kind of pointless, but there's no doubt that audiences would turn up to see this movie again. It's a familiar brand name and a proven, crowd-pleasing story. One would hope Hodson (who wrote the upcoming Shut In and The Eden Project) can bring a slightly surprising, and potentially modern, spin to this tried and true formula. You'd think the Internet and cell phones would radically change how The Fugitive would play out.
What do you think about a remake of The Fugitive?