Gallery: Raid 71's 'Illuminate' Pop Culture Art Show In Brooklyn, NY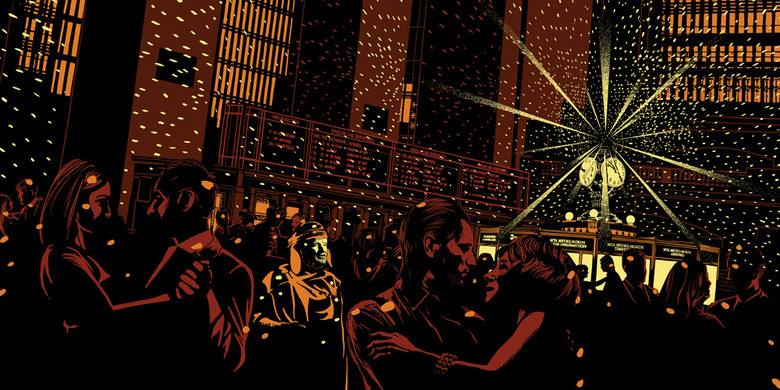 One of my biggest pet peeves is when someone takes a photo in terrible light. It's dark, everything is quiet and then huge flash goes off. I think " You just ruined that."
Most people are blissfully ignorant to the importance of light in art, not just in photography, but anything visual. Which, I assume, is one of the reasons why artist Raid 71 is calling his latest solo show Illuminate. The pop culture art show features works from films like Blade Runner, Tron, The City of Lost Children, Akira, Mean Streets, Dark City, Midnight Cowboy, The Fisher King, Taxi Driver and more that focus on light, and light juxtaposed with architecture, in cinema. The show opens May 15 at the Bottleneck Gallery in Brooklyn, NY and below you can see a bunch of art from the show.
Illuminate, the second solo exhibit by Raid 71, opens at 7 p.m. May 15 at the Bottleneck Gallery, 60 Broadway, Brooklyn NY. All unsold screen prints and original prints will go on sale at noon EST May 16 at www.bottleneckgallery.com.
Here are a few of the pieces in the show. Mouse over east for the subject.
Raid 71 Bottleneck Gallery Illuminate
Blade Runner aside, I love that Raid 71 decided to do so many different films for this show. It would have been so, so easy to focus on light in all the of the usual films: Star Wars, Jurassic Park, Pulp Fiction, Back to the Future etc. But The Fisher King? Mean Streets? Midnight Cowboy? These are great films that very rarely get love on the pop culture art circuit. Plus I really like this distinct, almost hypnotic style. The use of color and more specifically point of view really do give a the work a unique and exciting look. We're looking at this movies in a way we've never seen them.
What do you think of the latest Raid 71 Bottleneck Gallery show?