Spike Lee's Next Movie Will Be 'Chiraq', A Musical Comedy About Gang Violence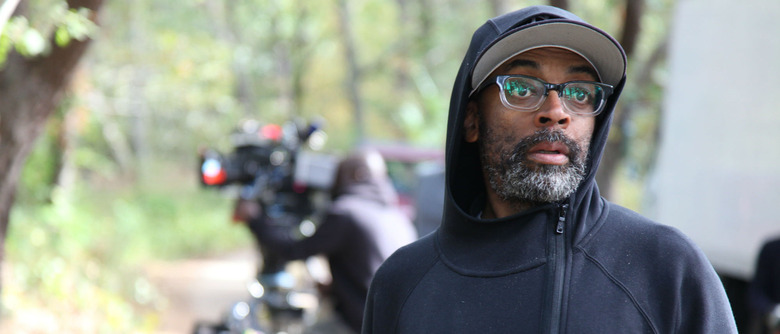 New details have emerged on Chiraq, Spike Lee's upcoming feature for Amazon Studios. As suggested by the title, it'll be an examination of gun violence in Chicago. More surprisingly, it'll also be a musical comedy based on an ancient Greek play. Samuel L. Jackson and John Cusack are expected to star, and Kanye West may also be involved in some capacity.
Get all the latest info about the Spike Lee Chiraq movie after the jump. 
Screen Daily reports Chiraq will be a modern-day retelling of Lysistrata, a fifth century BC comedy by Aristophanes. In the classical version, Lysistrata devises an unusual strategy to end the Peloponnesian War: She convinces the women of Greece to refuse sex with their husbands until the men agree to end the fighting.
Lee's Chiraq will center on a woman who goes on a similar mission to curb gang violence in the Englewood neighborhood of modern-day Chicago. Presumably, she'll employ some similar tactics.
Besides Jackson and Cusack, Common and Jeremy Piven were reportedly being courted as of last month, but neither has been confirmed yet. Jennifer Hudson may also get on board. Contrary to earlier reports, Kanye West will not star but, his rep notes, "there are discussions for West's possible involvement in the film's soundtrack, schedule permitting."
Lee is coming off of his Kickstarter-funded vampire movie Da Sweet Blood of Jesus, and the Oldboy remake. Chiraq will be released through Amazon Studios in the U.S., but there are also tentative plans for a theatrical rollout. IM Global will handle international sales at this month's Cannes Film Festival.
The title is a portmanteau of Chicago and Iraq, referring to the recent uptick in violence in the former. Some in the real Chicago have already voiced their displeasure with Lee's decision to set the film there. Actually, some of their problems with the project date even further back than that — not everyone loves the nickname "Chiraq," which they believe paints a negative image of the community.