Cool Stuff: Custom 10,000 Piece LEGO Millennium Falcon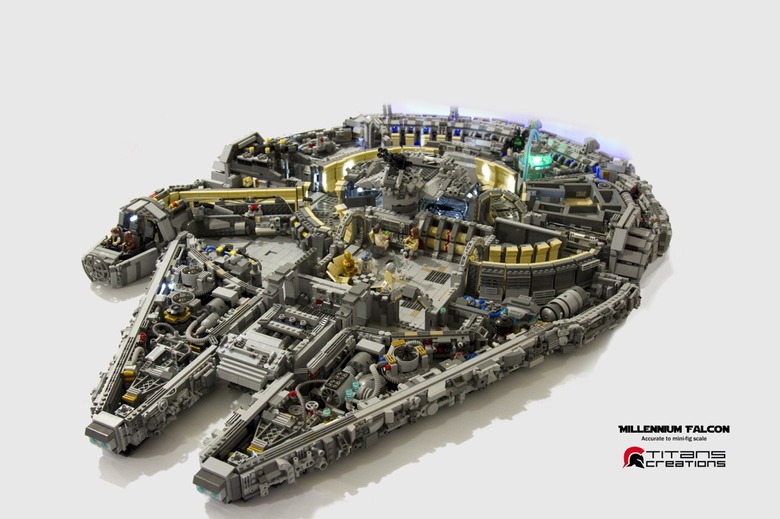 For Star Wars fans and Lego collectors, one of the holy grail pieces is the 5,195 piece Ultimate Collector's Series Millennium Falcon. Originally priced at about $500, it now can sell for almost 10 times that because of its rarity, and the set's incredible detail. It's one of the biggest and most beautiful Lego sets in history.
Yet it pales in comparison to this latest fan creation.
A team of Lego builders called Titans Creations have created a 10,000 piece Millennium Falcon that's physically 40% bigger than the official set and features multiple scenes from the movie within. Check out the amazing custom Lego Millennium Falcon below.
These images are from Titans Creations Facebook via Brother's Brick. Head there for many more.
Titans Creations Lego Millennium Falcon
The ship was made for the Legoland Malaysia May the 4th event and measures 110 cm by 85cm. Six builders took two months to plan and build the ship, which also includes 24 LED lights for the hyperdrive, cockpit, thrusters and more. Their main objective was "to replicate the interior of the popular Millennium Falcon as accurate as possible with references to different online material."
As a Star Wars and Lego fan myself, I think they met that objective and then some. The one downside to pretty much every single Falcon Lego set is the interior is underdeveloped. Now you can see why.
What do you think about this amazing build?