'Nightingale' Trailer: David Oyelowo Carries A One-Man Show For HBO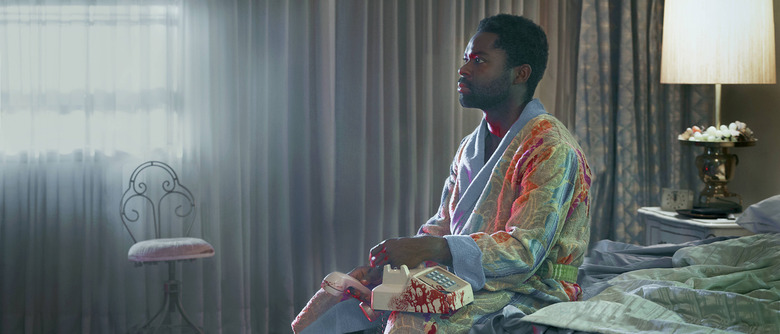 There aren't many actors who could be trusted to carry an entire feature film by themselves, but David Oyelowo is one of the special few. Following his exceptional (and sadly overlooked by awards) performance in Selma, Oyelowo leads the one-man show Nightingale for HBO.
At the center of the story is Peter Snowden, a war veteran spiraling out of control. In the aftermath of a terrible event, he desperately tries to reconnect with an old friend. Watch the Nightingale trailer after the jump.
HBO unveiled the Nightingale trailer on YouTube. Elliott Lester directed the drama from an original script by Frederick Mensch.
The Nightingale trailer is pretty vague about the specifics of Peter's predicament, focusing instead on a general feeling of wild-eyed desperation. (Set once again to Animotion's '80s hit "Obsession," because Nightingale apparently has a sense of humor.) But the Facebook synopsis offers a few more details:
Nightingale is a fascinating portrait of one man's descent into the delusions of a fractured mind. Told with incisive imagery, energy and humor, it's a compassionate depiction of isolation in the midst of a world ruled by social media. David Oyelowo gives a spellbinding, roller coaster ride of a performance as Peter, the sole character in the film, a war veteran struggling with the aftermath of a desperate act. Yearning to rekindle the relationship of a friend who he served with, Peter goes on a psychological journey to regain control of his life and free himself from the burden of his lonely existence.
Oyelowo looks more than capable of rising to the challenge of acting by himself. In the trailer alone, we see him as lonely, contrite, thoughtful, dangerous, unhinged, and above all, intense. As Peter, Oyelowo is miles away from his last big role as MLK in Selma, but he looks no less riveting.
Nightingale airs Friday, May 29 at 9 PM on HBO.