Rosario Dawson Returns For 'Daredevil' Season Two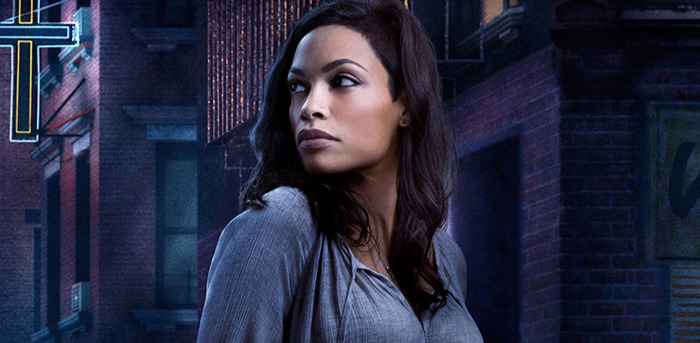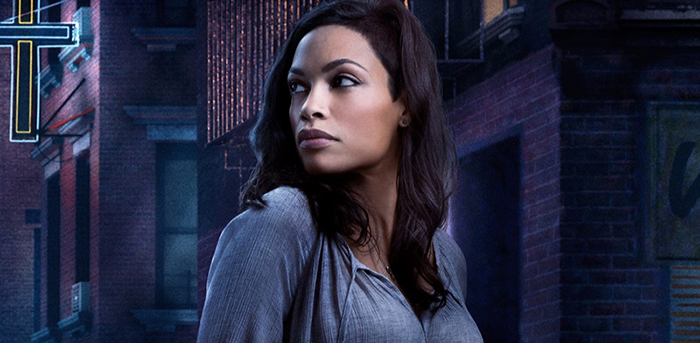 One of the best performers in Daredevil is returning to the show for season two. Sure, Charlie Cox and Vincent D'Onofrio both impressed in their roles as Matt Murdock and Wilson Fisk, respectively, but Rosario Dawson brought an unparalleled spark to her scenes. There wasn't enough of her in the first season, as her character Claire Temple came and went over the course of thirteen episodes. But we'll see more of her soon enough, as Dawson's deal with Netflix also suggests she'll appear in the rest of Marvel's Netflix series, too. 
Deadline reports on Dawson's return, saying the Daredevil season two appearance will be "part of a larger exclusive TV deal that also will allow her to appear in any of Marvel's other Netflix original series, Marvel and Netflix announced today."
In other words: no other shows outside the Marvel/Netflix axis will benefit from Dawson's appearance. Hopefully this also means she'll be able to schedule more time for the shows. Presumably her relatively selective appearance in season 1 episodes had to do with a pre-existing shoot schedule. Former showrunner Steven DeKnight has said they only had Dawson for five episodes:
SPOILER ALERT! We only had Rosario for 5 eps. Had to pick and choose which ones very carefully. (cont) http://t.co/9MCSp5GHWl

— Steven DeKnight (@stevendeknight) April 16, 2015
Marvel's head of TV and Daredevil exec producer Jeph Loeb said,
Claire Temple proved a fan favorite in Season 1, and we can't wait for fans to see all the plans we have for her next.
Daredevil season 2 is set to premiere in 2016, likely in an April time frame similar to the arrival of the first season.