'Agent Carter' And 'Agents Of SHIELD' Renewed, But 'SHIELD' Spin-Off Is DOA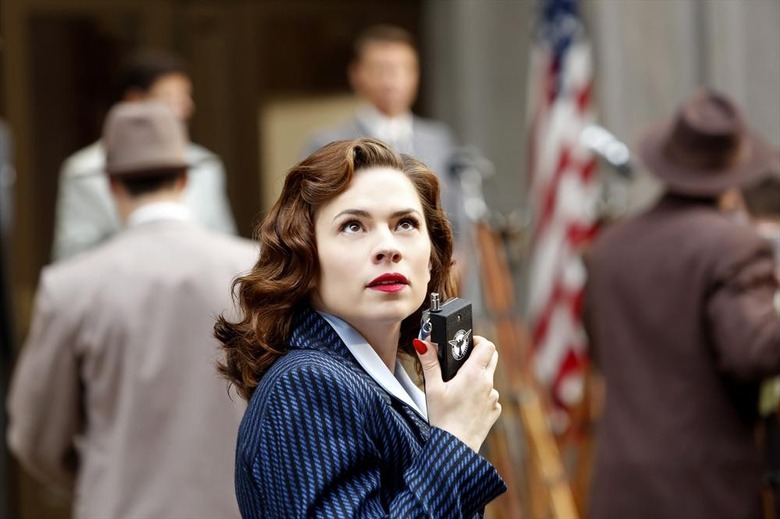 ABC likes Marvel's agents — well, most of them — and the network will give each of the two ABC Marvel shows a new season. So: Agent Carter renewed? Check. Agents of SHIELD renewed? Check. The proposed spin-off from Agents of SHIELD greenlit? Well, no. That one has been slapped down like a weak Hydra agent. More details follow.
We don't know much about the next seasons of Carter and SHIELD because, well, they were just ordered.
That said, we can surmise one thing about season three of SHIELD: it won't lose actors Adrianne Palicki and Nick Blood, who played Bobbi Morse, aka Mockingbird, and Lance Hunter on SHIELD season two.
That pair was proposed as the leads of the spin-off show. Deadline says "ABC and Marvel have put the brakes on the proposed Agents of SHIELD spinoff," and while we don't have a precise explanation for the decision not to go forward with the show, there's talk of wisdom prevailing over keeping a couple of the parent series' more popular characters on that series.
Meanwhile, there's also the new Marvel show that ABC has John Ridley (Oscar-winning 12 Years a Slave screenwriter) writing. We don't know what that one is about, or even what characters it might focus on. Given that the spin-off is seemingly dead, this is looking like a good alternate plan for ABC and Marvel.
This is a full block of ABC's renewals:
Castle, Grey's Anatomy, How to Get Away With Murder, Marvel's Agents of S.H.I.E.L.D., Nashville, Once Upon a Time, Scandal, American Crime, Secrets and Lies, Marvel's Agent Carter, black-ish, Fresh Off the Boat, The Goldbergs, Last Man Standing, The Middle, Modern Family, Galavant, America's Funniest Home Videos, The Bachelor, Dancing With the Stars, Shark Tank, Beyond the Tank, 20/20