'Broad City' Creators Team With Paul Feig For Feature Comedy At 20th Century Fox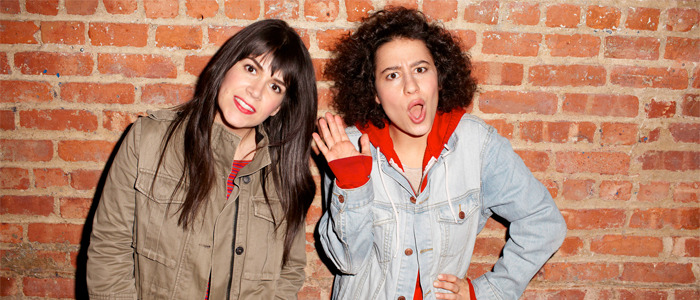 If you frequent the programming on Comedy Central, hopefully you've fallen in love with the comedy series Broad City as much as I have. Abbi Jacobson and Ilana Glazer make for quite a hilarious and raunchy comedic duo, and their eventual jump to the big screen was inevitable. Now there's news of some feature film action for Jacobson and Glazer as the two performers are teaming up with a filmmaker who has plenty of experience with funny women on film.
THR reports the creators, executive producers and stars of Broad City are working with Bridesmaids, The Heat and future Ghostbusters reboot director Paul Feig for a new feature film comedy. There's no title and no plot details at this time, and it's not a Broad City movie. But all we need to know is that Jacobson and Glazer are working with Feig to get excited for this flick.
The only downside is that even though Jacobson and Glazer lead their own comedy series, as of now the two are not slated to star in this new movie. But they wrote the script, and Feig is producing it, so we'll have to settle for that right now.
This new project comes at a time when women are getting just as raunchy and wild as men in R-rated comedy fare. Rose Byrne was a nice step towards breaking up the boys club in raunchy comedy in Neighbors. Comedian Amy Schumer is taking the lead in her own Trainwreck from director Judd Apatow, not to mention the third season of her sketch series Inside Amy Schumer has been going viral every week.
Combine that with the fact that Tina Fey and Robert Carlock's The Unbreakable Kimmy Schmidt with Ellie Kemper was a top-notch comedy series better than any network comedy, and Broad City being one of the most popular shows on Comedy Central, and funny women are doing some phenomenal work right now. And don't forget that two writers from Broad City are working on a female led spin-off of 21 Jump Street.
As of now, there's no indication as to when we might see this mystery comedy project come together, but the script was just sold to Fox, so there's plenty of time to figure that out. Honestly, I just hope that this is the start of an even bigger career for Abbi Jacobson and Ilana Glazer, because they are a laugh riot.
Do you like Broad City? Are you excited to see what these two can do with a feature film comedy?