'Unexpected' Trailer: Cobie Smulders And Anders Holm Get Pregnant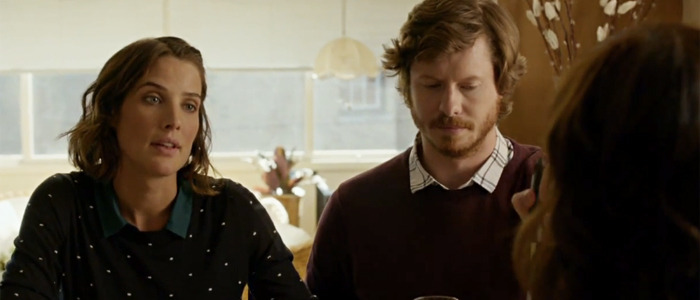 After playing the 2015 Sundance Film Festival earlier this year, plenty of indies will be headed to theaters as the year goes on. This summer will bring quite a few as counter-programming to the big studio projects crowding the multiplexes, and one of those films is the charming comedic drama Unexpected. The film stars Cobie Smulders (How I Met Your Mother, Avengers: Age of Ultron) and Anders Holm (Workaholics) as a couple dealing with an unplanned pregnancy. Now the Unexpected trailer has arrived for you to check out after the jump.
Here's the Unexpected trailer, originally from Apple:
Smulders gives a great lead performance, proving that she can be a true star outside of sitcom and supporting comic book character territory. It's worth noting that this is one of two films that starred Smulders at Sundance this year. The other was a comedy called Results, which also starred Guy Pearce and Kevin Corrigan (watch the trailer right here), and that one arrives at the end of this month.
The breakout star of this film, though, is Gail Bean. The young actress plays a teenage student at the school where Smulders' character teaches, who also becomes pregnant around the same time. Bean delivers a breakthrough performance and brings a lot of passion and refreshing attitude to what could have been a familiar indie drama. The movie isn't perfect, sometimes leaning towards melodrama, but it has its heart in the right place.
It helps that the film comes from Kris Swanberg, the wife of indie filmmaking machine Joe Swanberg (of Drinking Buddies and Happy Christmas), who wrote the script with first-time writer Megan Mercier. Unexpected wasn't one of our favorite films of the Sundance Film Festival earlier this year, but it's certainly one worth checking out this summer if it makes it to your local theater.
Samantha Abbott (Cobie Smulders) is a dedicated and passionate teacher at an inner-city Chicago high school. Just as she is coming to terms with her school closing, Samantha faces some life-changing and unexpected news: she is pregnant. After breaking the news to her live-in boyfriend John (Anders Holm) and opinionated mother (Elizabeth McGovern), Samantha learns that one of her most promising students, Jasmine (Gail Bean), has landed in a similar but very different situation. As the women navigate their ambitions for the future, Samantha and Jasmine forge an unlikely friendship that will challenge their perspectives and leave a lasting impact on one another.
Unexpected arrives in theaters on July 24th.