Jon Hamm Plans A 'High Wire Act' To Follow 'Mad Men'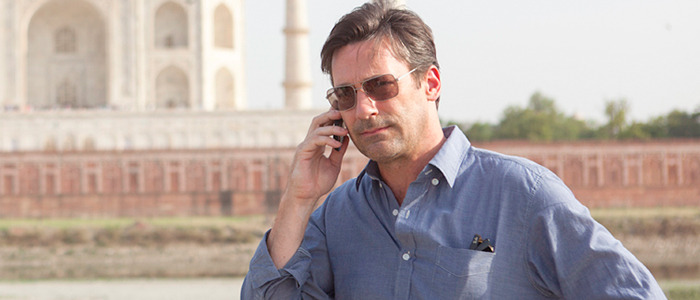 No, Jon Hamm isn't planning some network television stunt to air after the series finale of Mad Men on May 17th. Instead, High Wire Act is the name of a new political action thriller that will be led by the star of Million Dollar Arm and Bridesmaids and, yes, Mad Men. And with a script from Tony Gilroy, the writer behind The Bourne Identity franchise, this should be a project to keep an eye on. So what's the film about? Details on the plot after the jump.
High Wire Act takes place in 1980s Beirut and will follow Hamm as a former U.S. diplomat who is called back into service to save a former colleague from the group possibly responsible for his own family's death. Hamm has always seemed like a movie star ever since he started on Mad Men, and with the acclaimed series coming to an end this month, you can expect his presence on the big screen to become much more prominent.
Directing the film will be Brad Anderson, the filmmaker behind The Machinist with Christian Bale, and the Halle Berry led thriller The Call. The director makes a pretty bold comparison to Tinker Tailor Soldier Spy author John le Carre when praising Gilroy's script to THR. Anderson says:
"Tony may have been channeling John le Carré when he wrote this, and as such it has many of the themes I love that make those stories so great — the political intrigue, the betrayals, the morally compromised characters, the reluctant heroes. And it's set in a world — war-torn Beirut — that's seldom depicted on screen."
Hopefully that doesn't hype the quality of the script too much. Le Carre is quite the revered writer, and while Gilroy has written plenty of compelling thrillers, including Michael Clayton and The Devil's Advocate, he's also had some bumps with the flat Duplicity and the misguided effort that was The Bourne Legacy.
Gilroy also finds the prospect of working with Anderson exciting:
"Jon Hamm was made to play the part. I've been trying to work with Brad Anderson from the moment I saw Transsiberian, and every conversation we have confirms my confidence. I can't wait to see a script that means so much to me get up and running."
The project is on sale at the Cannes Film Festival with Good Universe handling international sales. Films that are being sold at Cannes don't always end up in front of the camera as quickly as producers hope, so we'll keep our ear to the ground to see how this one develops.
Do you want to see a Jon Hamm High Wire Act? Will you be happy to see him in more movies?