Dolph Lundgren Dishes His Role (And Channing Tatum's) In The Coens' 'Hail, Caesar!'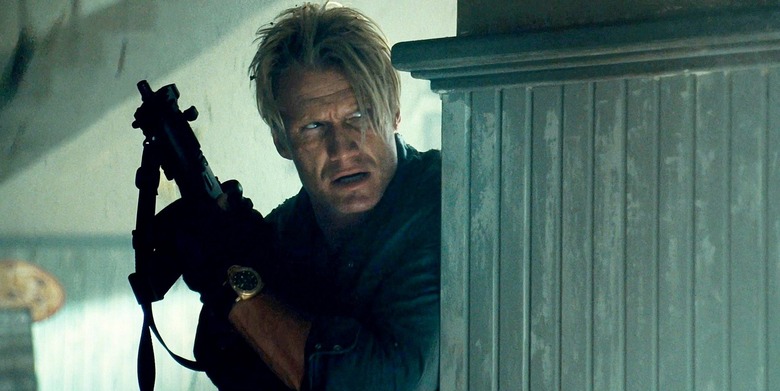 Dolph Lundgren isn't the kind of guy you'd normally expect to see in a Coen Brothers movie, and he knows it, too. "It was a bit of a shocker," he says of his role in Hail, Caesar! But now that he's settled into the part, he has some juicy new details to share about the period comedy, including exactly what Channing Tatum will be doing in it. Read all about the Dolph Lundgren Hail Caesar role after the jump. 
Set in 1950s Hollywood, Hail, Caesar! is a not-quite musical comedy about a studio fixer named Eddie Mannix, which takes place on one very busy day. Mannix winds through the pictures in production on a Hollywood backlot, dealing with problems like an unexpectedly pregnant actress and a nosy gossip columnist.
Speaking to Creative Screenwriting about his new thriller Skin Trade (which he helped write), Lundgren touched upon his upcoming part in Hail, Caesar!:
It was a bit of a shocker. They called me out of nowhere a few months ago. It's a movie set in the 1950s called Hail, Caesar! and it's about the studio system. Basically, one of the characters is going to defect to the Soviet Union because he loves communism because they have great uniforms [Laughs]. That's Channing Tatum's character in the movie, and they wanted someone to play a submarine commander. I guess they wanted someone kind of iconic where the audience sees the person and says, "Holy shit!" [Laughs]. So I'm wearing a Russian fur hat and I'm on this huge submarine in Malibu. It was fun to work with them. They were very nice guys, and of course I'm a huge fan of theirs and I never expected to be in any Coen brothers movies, but I guess I am!
Previously, Tatum's character had been described as a "Gene Kelly type." The real-life Kelly never tried to defect to the Soviet Union, but like many big stars of the era he was affected by the Red Scare when it hit Hollywood. His wife Betsy Blair was accused of being a Communist sympathizer, and he was one of several celebrities who publicly opposed the House of Un-American Activities Committee's investigation into the industry.
Lundgren's role sounds pretty wild, but it's not hard to imagine how such a character would fit into the offbeat world of the Coens. Hail, Caesar! opens February 5, 2016. Josh Brolin, George Clooney, Scarlett Johansson, Jonah Hill, Ralph Fiennes, and Tilda Swinton also star.