'Ant-Man' Poster Features Lots Of Famous People Gazing Into Middle Distance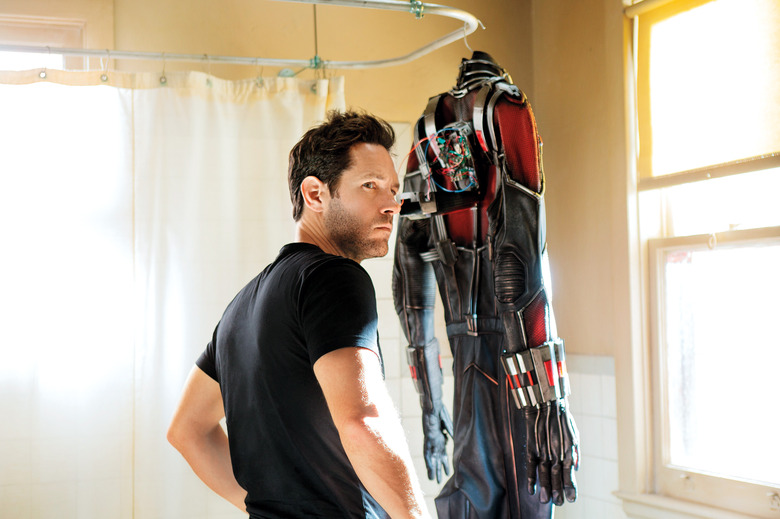 There are a lot of things that Marvel Studios does really, really well. Innovative poster design, however, is not one of them. The new Ant-Man poster isn't terrible, exactly, just very very boring. It's so boring, even the people on it look bored. If you've seen all the other Marvel posters, you'll already know just what to expect. Check it out after the jump. 
Marvel unveiled the new Ant-Man poster today.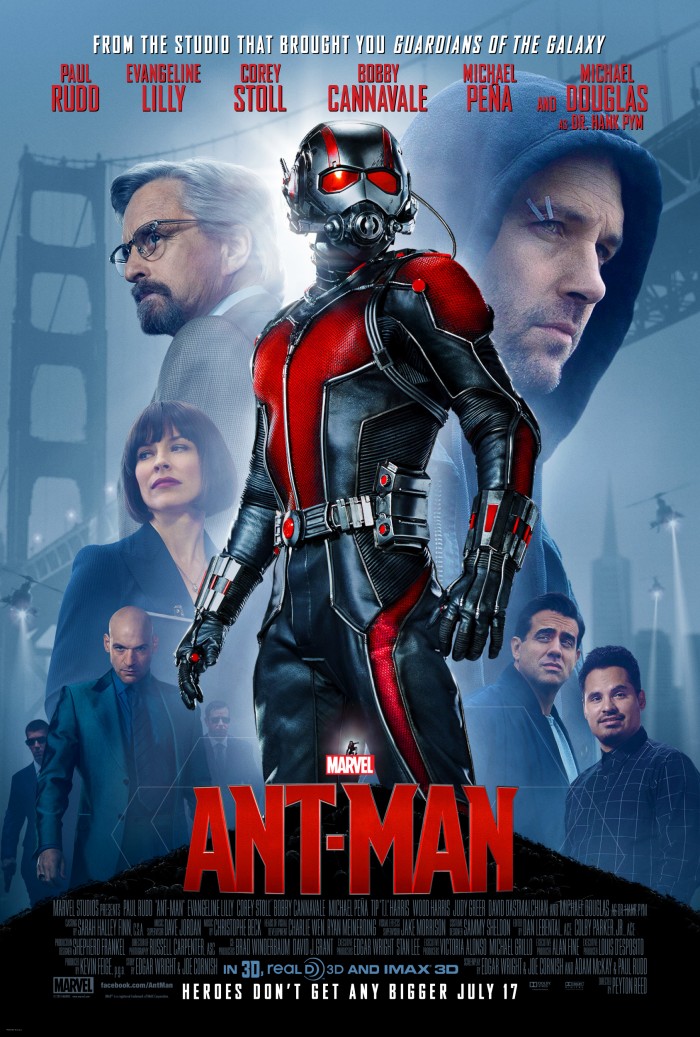 Yep, it's the usual design: the hero stands tall against a blue background populated by the other top-billed stars. It's especially disappointing given how witty some of Ant-Man's earlier marketing efforts have been. The teaser poster and tiny billboards played up the character's unique stature. But the only thing that set this poster apart from every other Marvel poster is that for once, there isn't any random debris floating around.
It also suggests Marvel still isn't sure how to strike the right balance between serious and funny. Ant-Man is billed as being "from the studio that brought you Guardians of the Galaxy" – as opposed to the more recent, more lucrative hit Avengers: Age of Ultron – which suggests they want to sell the film's sense of humor. So why is the poster itself so grim-looking? At least the Guardians poster had lots of color and wacky creatures, even if it followed the same basic layout.
Ant-Man opens July 17, 2015. Paul Rudd, Michael Douglas, Evangeline Lilly, and Corey Stoll star. Peyton Reed directed.
The next evolution of the Marvel Cinematic Universe brings a founding member of The Avengers to the big screen for the first time with Marvel Studios' "Ant-Man." Armed with the astonishing ability to shrink in scale but increase in strength, master thief Scott Lang must embrace his inner-hero and help his mentor, Dr. Hank Pym, protect the secret behind his spectacular Ant-Man suit from a new generation of towering threats. Against seemingly insurmountable obstacles, Pym and Lang must plan and pull off a heist that will save the world.
Marvel's "Ant-Man" stars Paul Rudd as Scott Lang aka Ant-Man, Evangeline Lilly as Hope Van Dyne, Corey Stoll as Darren Cross aka Yellowjacket, Bobby Cannavale as Paxton, Michael Peña as Luis, Judy Greer as Maggie, Tip "Ti" Harris as Dave, David Dastmalchian as Kurt, Wood Harris as Gale, Jordi Mollà as Castillo and Michael Douglas as Hank Pym. Directed by Peyton Reed and produced by Kevin Feige, Marvel's "Ant-Man" delivers a high-stakes, tension-filled adventure on July 17, 2015.