'Mr. Holmes' Trailer: A Legend Wrestles With His Own Fictions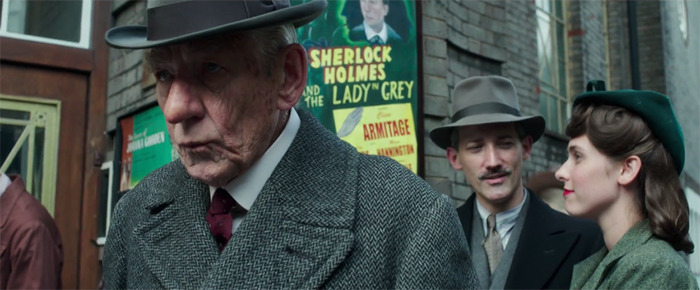 Being famous kinda sucks sometimes, especially if you're the most famous detective in the land. Sherlock Holmes seems to be more perturbed by fame and the misunderstandings that come with it than his is by the encroachment of old age in this Mr Holmes trailer. Ian McKellen plays the celebrated sleuth in this take on the character's later days from director Bill Condon (Dreamgirls, Gods and Monsters). And by the look of this trailer, that team has crafted a version of Sherlock Holmes that will appeal to die-hard fans and more casual viewers alike.
Mr. Holmes opens in theaters on July 17. Trailer via Roadside Attractions.
MR. HOLMES is a new twist on the world's most famous detective. 1947, an aging Sherlock Holmes returns from a journey to Japan, where, in search of a rare plant with powerful restorative qualities, he has witnessed the devastation of nuclear warfare. Now, in his remote seaside farmhouse, Holmes faces the end of his days tending to his bees, with only the company of his housekeeper and her young son, Roger. Grappling with the diminishing powers of his mind, Holmes comes to rely upon the boy as he revisits the circumstances of the unsolved case that forced him into retirement, and searches for answers to the mysteries of life and love – before it's too late.