Martin Freeman Joins 'Captain America: Civil War'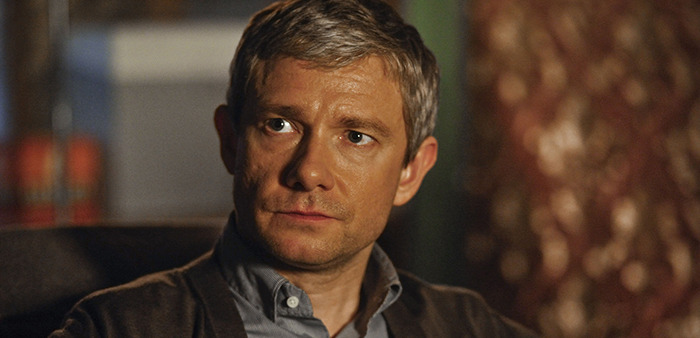 A renowned adventurer has just joined Marvel's ranks — or a military doctor, an office drone, a hapless Midwesterner, an android masquerading as a businessman, or an intergalactic traveler, depending upon your primary vision of actor Martin Freeman. The Brit is the latest addition to Marvel's next big thing, and you get get what shreds of info we have about Martin Freeman in Captain America: Civil War below.
Marvel has the info, but does not divulge who he'll play. Start your speculation now. Will this be a one-off gig, or the beginning of a string of Marvel appearances? Freeman is a big enough name that we'd be surprised to see him in a role similar to the one played by Garry Shandling in a couple films, for example, but you never know.
The official press release says:
"From his roles as Bilbo Baggins and Doctor Watson to Tim in 'The Office,' Martin's range from the dramatic to the comedic has consistently impressed us," said "Captain America: Civil War" Producer Kevin Feige. "We couldn't be more honored or excited to have such a talented actor join the Marvel Cinematic Universe."Celebrated for his roles in "Sherlock," "Fargo," the "Hobbit" trilogy, and much more, Freeman has earned one Primetime Emmy® Award and one BAFTA Award, both for his portrayal of Doctor John Watson in "Sherlock." Martin has also been nominated for a Golden Globe® for his role of Lester Nygaard in "Fargo", and nominated for a further two Emmy Awards and two BAFTA Awards. Most recently Martin has been seen hosting SNL and has filmed Tina Fey's untitled wartime black comedy."Captain America: Civil War" hits theaters May 6, 2016. Stay tuned to Marvel.com for the latest on all of Marvel Studios' upcoming films as it breaks.