Theaters Are Fighting With Disney Over 'Avengers: Age Of Ultron'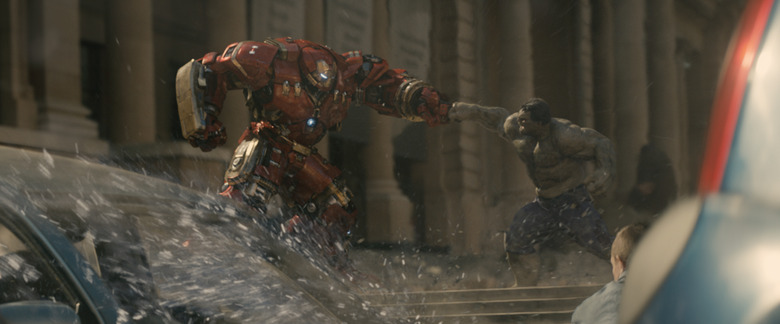 Avengers: Age of Ultron is littered with epic fight scenes, but some of the biggest battles involving the all-star superheroes are taking place offscreen. Theater owners are reportedly furious about the new conditions being imposed by Disney on cinemas showing the new Marvel feature. If the studio has its way, the theaters complain, ticket prices could go up for all moviegoers.
Learn all about the Avengers 2 theater dispute after the jump. 
According to the Wall Street Journal, the National Association of Theater Owners (NATO) has written to Disney about the "avalanche of complaints, concerns and fears" it has received from members over the new policies required by the studio.
Among other things, Disney demanded theaters stop matinee screenings of Avengers: Age of Ultron at 5 PM. It also wants to set the national average ticket price as the minimum on which it'll split box office revenue — meaning that cinemas won't make as much money off of Avengers: Age of Ultron if they don't meet the national average ticket price.
Disney has the leverage to make such demands because its films are phenomenally successful. Avengers: Age of Ultron's $188 million domestic opening is the second highest in history, behind only the first Avengers movie ($207 million). Besides the Marvel movies, Disney also distributes the Star Wars and Pixar movies, as well as animated features like Frozen and live-action fairy tales like Cinderella.
NATO complained that using the national average ticket price as a minimum standard raise prices for audiences in lower-income or lower-priced areas. Moreover, it argued such a move would begin "a cycle of price increases [that] may constitute illegal vertical price fixing under state and federal antitrust laws."
NATO's pushback is proving somewhat successful. In response to the outcry, the studio has softened its approach. Disney has backed down on the matinee cutoff, and is "willing to be flexible" about the minimum ticket price for theaters in markets where the average admission is below the national average.
Even so, NATO worries others might follow Disney's example. Studios tend to get the best terms on their biggest films. For example, Disney will get about 60% of the domestic box office revenue for Avengers: Age of Ultron, compared to the industry average of 50%. You may recall that that number was settled upon after a bitter fight between Disney and theaters over another Marvel movie, Iron Man 3. And with each studio stacking up big-budget blockbusters for the next few years, we'll probably see similar fights play out again in the near future.