Lucasfilm Confirms 'Indiana Jones 5' Is Happening, But Isn't Sure When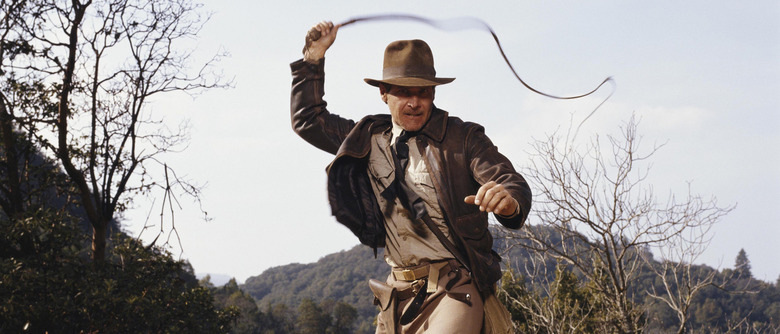 Since acquiring Lucasfilm, Disney has wasted no time getting the Star Wars franchise back up and running. But they've been pretty vague about their plans for Lucasfilm's other big signature brand, Indiana Jones. Well, fear not. Lucasfilm president Kathleen Kennedy confirms a new Indiana Jones movie is coming. Eventually, anyway. Read her confirmation of... something for Indiana Jones 5 after the jump. 
The bit about Indiana Jones was slipped into the print edition of Vanity Fair's Star Wars cover story (via Coming Soon):
In buying the company, Disney also got rights, for better or worse, to less-storied Lucasfilm properties, among them Willow and Radioland Murders. A bigger prize is the Indiana Jones franchise. Kennedy confirmed rumors that another Indy movie 'will one day be made inside this company. When it will happen, I'm not quite sure. We haven't started working on a script yet, but we are talking about it.'
Speculation about a fifth Indiana Jones movie predates even the Lucasfilm purchase — it's been going on since 2008's Indiana Jones and the Kingdom of the Crystal Skull, really. Disney seemed to make a bit of forward movement in 2013, striking a deal with Paramount to distribute future Indy films.
But not so fast, Disney CEO Bob Iger told press in late 2014. "We'd love to make another Indiana Jones movie but we're pacing ourselves right now," he said. And although rumors have swirled about the possibility of Steven Spielberg directing Chris Pratt in an Indiana Jones reboot, for now they're just that — rumors.
Kennedy's comments don't reveal much about Disney's actual plans for the franchise, but they're the closest we've come so far to an ironclad confirmation that fifth Indiana Jones movie is in the cards. Sadly for Indy fans, they also suggest it's not happening for some time.
Which, once again, raises the question of whether this will be a sequel, prequel, reboot, or what. Harrison Ford seems game, but he's 72 and not getting any younger. While it's theoretically possible for Disney to build a series around an older, less physical Indy, it seems likelier the studio will want a younger star to revive the franchise for a new generation.