'John Wick 2' Reunites Keanu Reeves With David Leitch And Chad Stahelski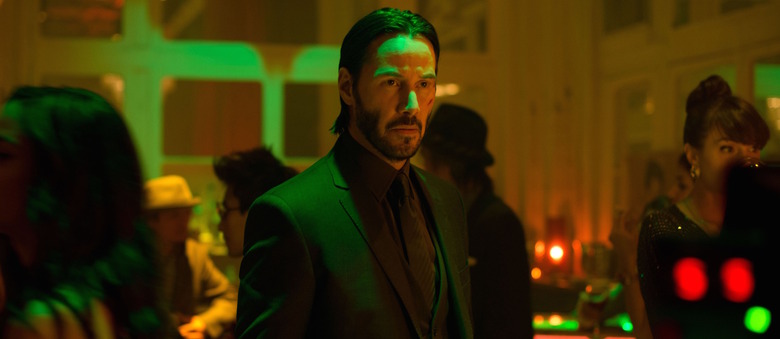 He's thinking he's back (again)! Keanu Reeves will reload as vengeful former assassin John Wick in John Wick 2, and, even better, he won't be working under the direction of a new filmmaker. The original creative team of David Leitch and Chad Stahelski are also back, with screenwriter Derek Kolstad set to return to script.
Here's the press release, with all the info we have.
We'd heard that Leitch and Stahelski were being courted to direct a DC Comics movie for Warner Bros., and they're also set to direct Bloodshot. But with Bloodshot set to debut in 2017 and international sales on John Wick 2 set to take place shortly at Cannes, it sounds like this could end up being their next project.
LIONSGATE RELOADS "JOHN WICK 2"
Keanu Reeves, Directors David Leitch and Chad Stahelski ReturnSANTA MONICA, Calif, May 4, 2015 – Lionsgate (NYSE: LGF) has confirmed plans to produce a sequel to 2014's critically-acclaimed breakout hit "JOHN WICK," it was announced today by Rob Friedman and  Patrick Wachsberger, Co-Chairmen of the Theatrical Motion Pictures Group.  Keanu Reeves along with directors David Leitch and Chad Stahelski as well as screenwriter, Derek Kolstad are set to return for the sequel. The film will be released through Lionsgate's Summit Entertainment and will be produced by Thunder Road's Basil Iwanyk, who produced the first film.In the follow up to last year's adrenaline-fueled revenge and redemption thriller, legendary hit man John Wick is back."With such tremendous fan and critical support for 'John Wick,' we knew that there was still so much more of this story to tell," said Jason Constantine, President of Acquisitions and Co-Productions. "We are thrilled that Keanu, David and Chad have re-teamed with us and promise to bring audiences even more excitement the second time around."Jason Constantine and Eda Kowan at Lionsgate will oversee the project on behalf of the studio.Lionsgate International will be selling the picture internationally at the upcoming Cannes Film Market.