'Star Wars: The Force Awakens': Meet Captain Phasma, Played By Gwendoline Christie [Removed]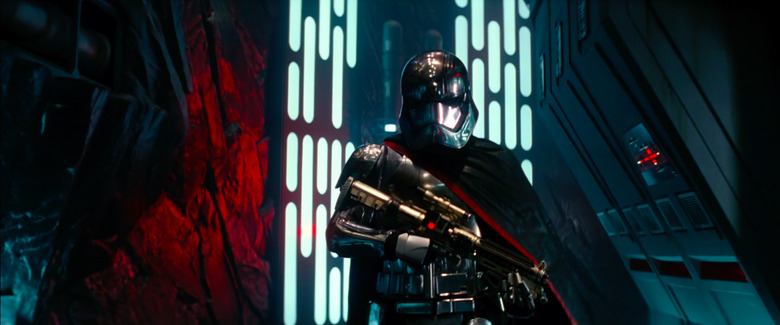 Here's one more tidbit to add to the growing bounty of gifts this May the Fourth. Vanity Fair has revealed the first look at the Star Wars: The Force Awakens character played by Gwendoline Christie, named Captain Phasma. So who is Captain Phasma, exactly? Get to know this imposing new figure after the jump. 
Vanity Fair unveiled the Star Wars Gwendoline Christie character on its site today. As with all the other photos from the publication's Star Wars feature, this portrait was shot by Annie Leibovitz.
[image removed at request of Vanity Fair]
This is Captain Phasma, and she's an officer of the First Order (i.e., the Empire). Which would suggest that she's a villain, except that some characters in this universe play hopscotch with the line between good and evil. Even Darth Vader started out as a Jedi knight, after all, and even Darth Vader found redemption shortly before his death.
According to the accompanying caption (via IGN), Phasma is "surveying the rubble following an attack" in this photo. Is that an attack on Phasma, or an attack caused by Phasma? We'll have to wait for the film to find out.
The photo confirms earlier rumors that Christie's Phasma was the so-called "Chrome Trooper" spotted in the most recent trailer. Still unconfirmed are the rumors (warning: potential spoilers ahead) that Phasma is the Imperial officer who hunts down John Boyega's Finn after he deserts his post as a Stormtrooper. (End potential spoilers.)
In a franchise that has been frequently and deservedly criticized for its lack of female characters, it's exciting to see some powerful new ladies step up. Christie wears that armor well, perhaps thanks to the many hours she's spent sporting medieval-style armor as warrior Brienne of Tarth on Game of Thrones. If Phasma is half the badass Brienne is, we should be in for a treat when Star Wars: The Force Awakens opens December 18.