See Adam Driver, More Of Daisy Ridley In 'Star Wars: The Force Awakens' [Video]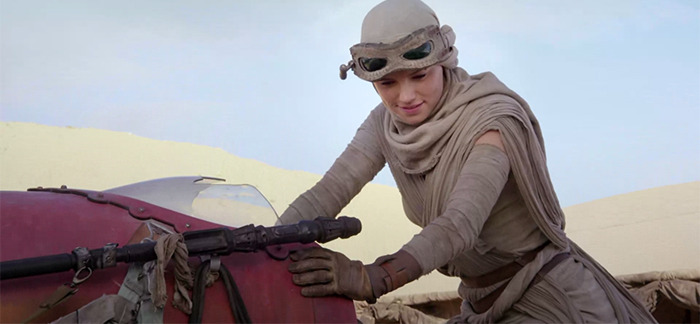 Here are new looks at The Force Awakens characters for Star Wars Day.
It may already be May the 4th where you are, which means it is either already Star Wars Day, or very shortly will be. While the fan holiday grew out of an obvious phrase (May the 4th be with you) it has a lot more potential this year with Star Wars: The Force Awakens opening in December. We saw the great Vanity Fair cover earlier today, featuring new characters Rey, Finn, and BB-8 along with Chewbacca and Han Solo, and it looks like the magazine will deliver even more very soon.
Now there's a 45-second video which shows off the Adam Driver Force Awakens character, and gives us some info on the role played by Lupita Nyong'o. There are also new stormtrooper shots, another look at Rey, and some great shots of her speeder, alongside some behind-the-scenes footage of that cover shoot featuring Harrison Ford. 
Here's the video, which basically confirms that Adam Driver is playing Kylo Ren, the masked character who wields the cross guard lightsaber. (Many of you already knew this, but the shot of Driver in costume without the mask is new regardless.) There's already a lot more talk about who Ren really is, but if you want only official stuff rather than spoiler info, you're safe here.
Vanity Fair promises more info tomorrow, including "never-before-seen images of characters played by Adam Driver, Gwendoline Christie, and Lupita Nyong'o." Since this video shows that Nyong'o is playing a CG character, that photo should be pretty interesting to see. And we're psyched to see images of Christie in character. Hell, we can't wait to see it all.