Watch: Entertaining And Instructive Video Essay On Jackie Chan's Action Filmmaking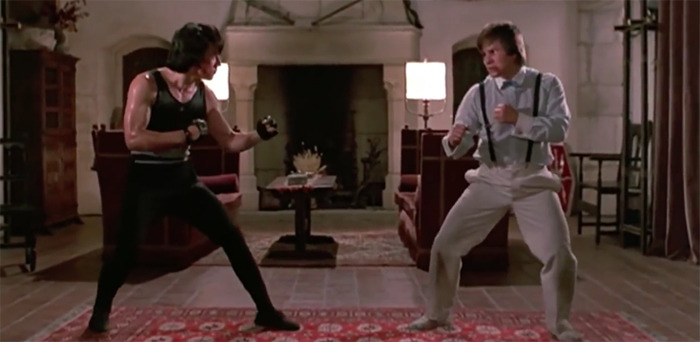 We've been talking a lot about Mad Max: Fury Road for the past couple weeks, and one reason is that it is, as I argued in my review of the film, incredibly precise and clear storytelling from a visual perspective. There is virtually nothing as good as Fury Road in action films of late. But there is in older work, such as the remarkable run of '80s and early '90s movies from Jackie Chan.
A couple weeks ago I came across a video essay that is itself very precise about breaking down just what works in Chan's films, and why. I've watched this essay many times now, and despite the fact that it isn't "new," having debuted late last year, I wanted to share it as an explanation of exactly how and why some visual storytelling works so well.
Whether you aspire to make films, or just want to gain a better understanding of how they work, you must watch this video.
This essay is titled "How to Do Action Comedy," but that particular blend of elements is only part of its appeal. What this really reveals is how to achieve clarity in action. Doing so isn't easy, but it is pretty simple. Keep the camera wide, and steady. Stage the action to provide context, keeping action and reaction in one shot. Cut with a rhythm. These are all things we see in the success of Fury Road, too.
Persistence is the key ingredient. As Jackie says in one interview clip, "it's not [that I'm] good! You can do it! Except, do you have the patience?" That goes along with a point that Tony Zhou makes in the essay, that Jackie doesn't win fights because he's the best fighter, he wins because he doesn't give up.
I saw a full collection of Jackie Chan's great '80s films in a Boston-area theater in the summer of 1993, and they changed my view of action filmmaking. His work, especially when seen all at once, makes a tremendous impact.
If you haven't seen these films, I can't recommend strongly enough that you seek out the first three Police Story films, Project A parts one and two, the pair of Armour of God films, Jackie's two Drunken Master movies, and Wheels on Meals. Yeah, that's ten Jackie films that are stone-cold essential, and that only scratches the surface of his career. The guy is a phenomenon.
If you want a taste, this supercut will give you a heaping faceful.