'Tangerine' Trailer: Here's The Sundance Smash Shot Entirely On iPhone 5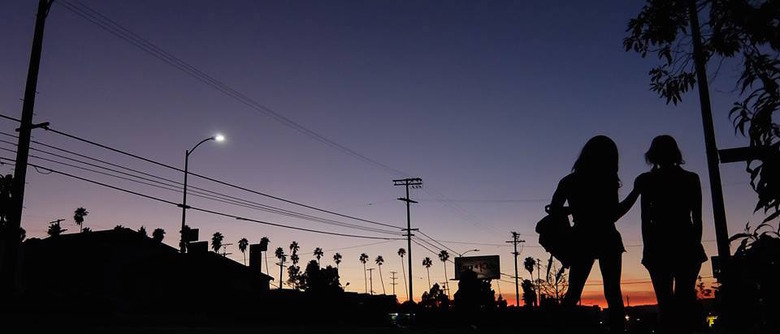 Sean Baker's Sundance smash Tangerine stands out in a couple of ways. For one thing, it chronicles the Christmas Eve misadventures of two transgender prostitutes – not a premise we see on film very often. For another, it was shot entirely on an iPhone 5. But beyond that, it seems worth checking out simply because it looks damn interesting.
Newcomers Kitana Kiki Rodriguez and Mya Taylor are instantly compelling as Sin-Dee and Alexandra, two BFFs working the streets of LA, and their journey takes them through some of LA's more obscure corners and subcultures. Watch the Tangerine trailer after the jump. 
Magnolia unveiled the Tangerine trailer on YouTube. Be warned that this is a red-band video. There's not much graphic sexuality or violence, but there's a whole lot of swearing.
At Sundance, Baker revealed that the iPhones were used in part to keep down equipment costs, but also as a way to avoid the permits and permissions that are usually required to shoot in public places. He recalled that one argument filmed on a LA city bus looked so real, the driver called the cops.
It's pretty clear that Tangerine wasn't shot on high-end equipment, but based on the trailer that's not a big drawback. If anything, the lower quality footage adds to the overall aura of intimacy and authenticity.
Tangerine earned some really strong reviews at Sundance. Variety praised it as an "exuberantly raw and up-close portrait of one of Los Angeles' more distinctive sex-trade subcultures" and the NYT noted "the tenderness with which he foregrounds marginalized characters who in other films are often used to add a little 'color' to other people's lives."
Magnolia has Tangerine set for a limited release starting July 10, 2015.
It's Christmas Eve in Tinseltown and Sin-Dee (newcomer Kitana Kiki Rodriguez) is back on the block. Upon hearing that her pimp boyfriend (James Ransone, STARLET, "Generation Kill") hasn't been faithful during the 28 days she was locked up, the working girl and her best friend, Alexandra (newcomer Mya Taylor), embark on a mission to get to the bottom of the scandalous rumor. Their rip-roaring odyssey leads them through various subcultures of Los Angeles, including an Armenian family dealing with their own repercussions of infidelity. Director Sean Baker's prior films (STARLET, PRINCE OF BROADWAY) brought rich texture and intimate detail to worlds seldom seen on film. TANGERINE follows suit, bursting off the screen with energy and style. A decidedly modern Christmas tale told on the streets of L.A., TANGERINE defies expectation at every turn.