'Fifty Shades Darker' Teaser: Jamie Dornan Suits Up For The Sequel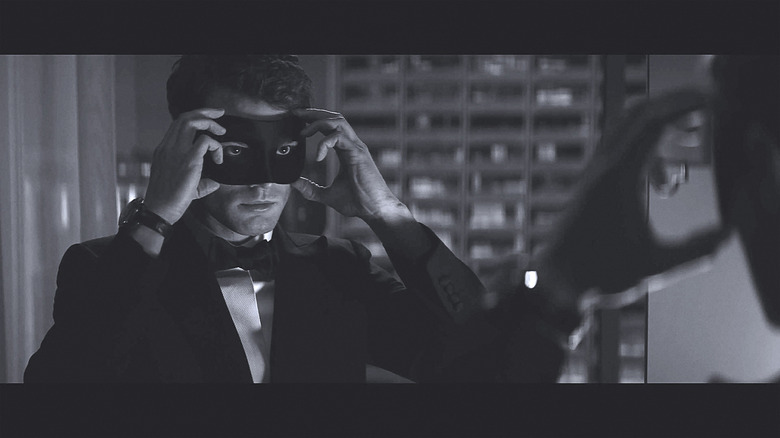 Fifty Shades Darker doesn't have a script or a director, but somehow it does have a teaser. And we're not just talking about a glorified title card, either — it's a peek at the notorious Christian Grey (Jamie Dornan), apparently preparing for a very interesting evening. Watch the Fifty Shades Darker teaser after the jump. 
The first Fifty Shades Darker teaser was unveiled on the Fifty Shades of Grey Blu-ray.
So many questions! Is Christian Grey an Eyes Wide Shut superfan, or is this a secret bit of Bruce Wayne / Batman cosplay? Why are all of pop culture's most famous young billionaires so desperately sad? Where's Anastasia? And where the hell did this footage come from? Did the studio call Dornan in just to put on a mask in front of a camera, or is it just an extra bit they shot while making Fifty Shades of Grey last year?
Clearly the idea is to promote Fifty Shades Darker as being a little, well, darker than the first film. At a recent event, Universal Pictures chairman Donna Langley described the upcoming sequel as "more of a thriller," which makes sense if you've read the book. (Or at least the Wikipedia plot summary of the book.)
Fifty Shades of Grey was famously plagued by fights between author E.L. James and director Sam Taylor-Johnson, who decided not to return for the sequel. But Langley insists it all worked out for the best. "For the record, the movie we ended up making is exactly the movie I wanted to make and that the studio wanted to make and that our director wanted to make," she said.
Also not returning from the first movie is screenwriter Kelly Marcel, who's been replaced by James's husband Niall Leonard. With regard to his hiring, Langley said, "He actually did a draft that wasn't credited on the first movie, and he did a really good job." Which, fine. It still looks like a way for James to exert further control over the franchise.
Fifty Shades Darker is scheduled to open February 10, 2017, followed by Fifty Shades Freed on February 9, 2018. Dakota Johnson will also reprise her role as Anastasia Steele.