'Green Eggs And Ham' Netflix Series Coming From 'Wreck-It Ralph' Writer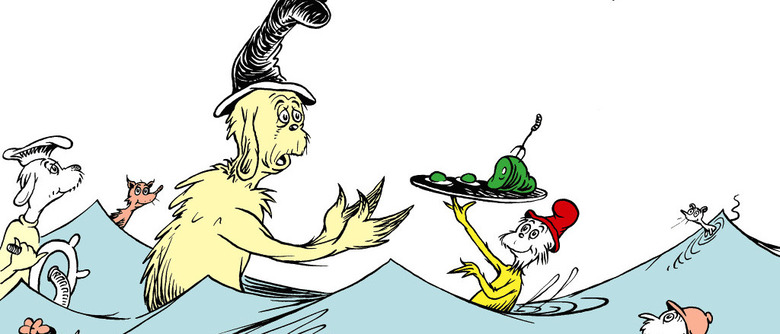 Hollywood has been digging through your childhood toybox again, and they've come up with one more property to adapt. Netflix announced this week that it is making a TV series out of Green Eggs and Ham, the Dr. Seuss classic about a guy who badgers another guy into trying some strange food. Get all the details on the Green Eggs and Ham Netflix series after the jump. 
Netflix has given a 13-episode order to Green Eggs and Ham. Production is expected to begin in May for a 2018 premiere. According to Deadline, Green Eggs and Ham will be "the highest-end, most expensive animated program ever produced for television," with a rumored cost of about $5 to $6 million per episode.
Jared Stern (Wreck-It Ralph) is writing the script and will executive produce with Ellen DeGeneres, Jeff Kleeman, Mike Karz, David Dobkin, and Warner Bros. Animation. DeGeneres announced Green Eggs and Ham on her show Ellen, quipping, "This show is gonna combine two of my favorite things – Dr. Seuss and binge watching."
Plans for a Green Eggs and Ham adaptation had been floating around for some time, first as a feature then as a television series. Producers have secured the blessing of Audrey Geisel, widow of the late Theodore Geisel a.k.a. Dr. Seuss. The show will expand on the book, sending the two characters on "a cross-country trip that tests the limits of their friendship."
Normally might we voice our skepticism at the idea of turning a 65-page picture book into a 13-episode series. But as the central message of Green Eggs and Ham is, essentially, "don't knock it 'til you've tried it," we'll refrain until we know more. For now, enjoy the delightful Dr. Seuss-style press release sent out by Netflix.
BEVERLY HILLS, Calif., April 29, 2015 /PRNewswire/ –Issued from Netflix headquarters.Delivered straight to all reporters.We'd love to share some happy newsbased on the rhymes of Dr. Seuss.Green Eggs and Ham will become a showand you're among the first to know.In this richly animated production,a 13-episode introduction,standoffish inventor (Guy, by name)and Sam-I-Am of worldwide fame,embark on a cross-country tripthat tests the limits of their friendship.As they learn to try new things,they find out what adventure brings.Of course they also get to eatthat famous green and tasty treat!Cindy Holland, VP of Original Content for Netflixthrew her quote into the mix:"We think this will be a hitGreen Eggs and Ham is a perfect fitfor our growing slate of amazing storiesavailable exclusively in all Netflix territories.You can stream it on a phone.You can stream it on your own.You can stream it on TV.You can stream it globally."For those of you less poetic, here's a change in aesthetic:Based on the classic global best-selling book by Dr. Seuss (Theodor Seuss Geisel), Green Eggs and Ham will be adapted for television by Jared Stern (The LEGO® Movie Sequel), who will also serve as executive producer alongside Ellen DeGeneres, Jeff Kleeman, Mike Karz and David Dobkin. The animated family comedy is from A Very Good Production, A Stern Talking To and Gulfstream Television in association with Warner Bros Animation, and distributed by Warner Bros. Television.