Cool Stuff: 'Texas Chainsaw Massacre' Poster By Gabz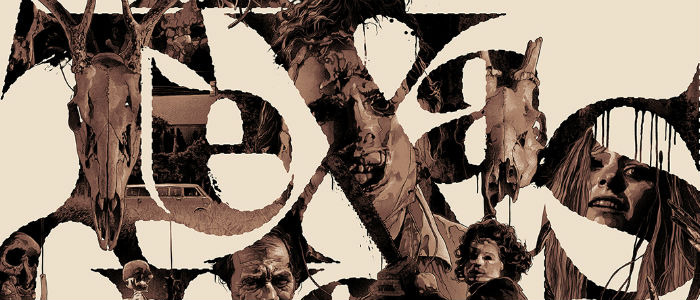 There's a very fine line between making a poster that's artistic and beautiful, but also recognizable as something from a movie. If you go too far one way, it might be obscure. The other way? A lazy, photoshop mashup. It's a true talent to be able to ride that line, and the latest piece by Grey Matter Art shows that talent.
The company has been releasing posters for The Texas Chainsaw Massacre and the latest one is by Grzegorz Domaradzki, aka Gabz. He goes the untraditional route of doing something kind of traditional – a huge title logo – but gives it his own spin with amazing detail within that space. The poster goes on sale Thursday in three different editions. Read more about it below.
Here are the three different versions of the Texas Chainsaw Massacre poster by Gabz:
Gabz - Texas Chainsaw Massacre poster
This totally could have been a theatrical one sheet, right? But at the same time, it's a truly great and artistic pop culture poster. What a great blend.
These are all 24 x 36 inch screenprints. The Regular edition (muted tan) is an edition of 150 and costs $50. The variant (brighter tan) is an edition of 100 and costs $65. Then there's the foil variant, an edition of 75 which costs $115.
All three go on sale on Thursday April 30 between 1-2 p.m. EST at greymatterart.com.
Here's what the artist had to say about the poster.
Being a huge fan of what Jason Edmiston and Florian Bertmer did for the same title before me, as hard is it was, I wanted my piece to be something completely different. I've been wanting to work on something more editorial-looking for months, and with a title as long as this one, I felt it's a perfect opportunity not to be wasted.Since viewers of this classic horror flick are meant to believe it's based on a true story, custom-designed typo that looks like a front page of some crazy newspaper seemed like a right thing to do.Instead of focusing on just one scene or character, I included several plot points and all the essential characters destined (or not) to end up on Sawyer's dining table.