'Irrational Man' Trailer: Woody Allen's Latest Stars Emma Stone And Joaquin Phoenix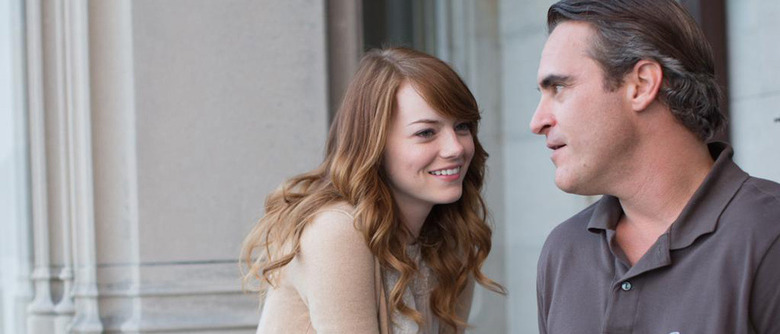 In typical Woody Allen fashion, the writer/director has been keeping details for his next film Irrational Man under tight wraps. But with the arrival of the first Irrational Man trailer, we finally have some idea of what this movie will be about.
Joaquin Phoenix stars as a philosophy professor who's suffering from an existential crisis: he can't write, he can't breathe, he "couldn't remember the reason for living," as he says in the promo. But he gains new purpose when he strikes up a relationship with a beautiful young student played by Emma Stone. Watch the Irrational Man trailer after the jump. 
An older man prone to overthinking things, whose world is rocked by the arrival of lively younger woman: what groundbreaking new territory for Woody.
Phoenix, Stone, and Parker Posey are excellent actors and I've no doubt they'll be charming as always in Irrational Man. And the distinctly Woody Allen-esque rhythm will probably please his devoted fans.
But unless there's some kind of twist not revealed in the trailer, there's not much about Irrational Man that looks fresh or different. Not only has Allen put out several variations of that plot before, an entire generation of filmmakers influenced by Allen have also offered their own takes on that same basic premise.
According to EW, Allen was so determined to keep the plot of Irrational Man under wraps that he didn't even tell his stars what it was about. Posey reveals she only got to see 20 pages of the script. "I had no idea what the exact mood of the movie was," she said. "I had no idea how I fit in or how the other characters thought of me."
Irrational Man will have its world premiere at the Cannes Film Festival in May. Sony Pictures Classics will then roll the film into U.S. theaters July 17.