'Seinfeld' Is Coming To Hulu This June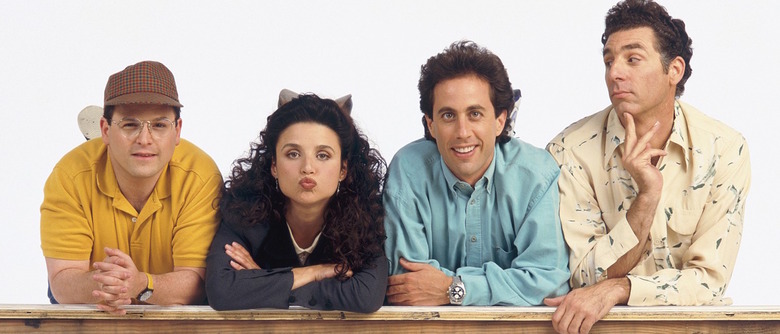 Update: Seinfeld will make its Hulu debut on June 24. The Verge notes Hulu will show the original full-length episodes, rather than the edited versions that air in syndication. Original story follows.Seinfeld is coming to Hulu. The online video service has just secured the streaming VOD rights to all 180 episodes, which originally aired on NBC from 1989 to 1998. More details on the Seinfeld Hulu deal after the jump. 
Hulu content chief Craig Erwich announced the Seinfeld deal at its upfront presentation today. Depending on whom you ask, it's estimated at around $130 million (about $700,000 per episode) or just under $180 million (about $1 million per episode). The cash will be split between Sony Time Warner's Castle Rock, and Seinfeld profit participants including co-creators Jerry Seinfeld and Larry David.
The news comes a few weeks after word got out Sony Pictures TV was shopping around the SVOD rights. Yahoo and Amazon were among the other companies interested in Seinfeld. (Netflix was considering it last year but decided to pass.) The WSJ estimated at the time that "the show about nothing" could fetch "well north of half a million dollars" per episode.
Although Seinfeld ended in 1998, its popularity has endured. Reruns air regularly on broadcast and cable TV. In addition, a limited number of episodes have been available online on Crackle, the online video platform owned by Sony. However, Hulu will make the entire series available to stream for the first time in its history.
As the streaming wars continue to intensify, the competitors are scrambling to distinguish themselves. Original content like Netflix's Daredevil or Amazon's Transparent is a large part of the strategy, but so is exclusive streaming rights to popular existing content. Last near Netflix forked over big bucks for all 236 episodes of Friends, and just a few months ago Hulu snagged all 300 episodes (and counting) of CBS' CSI.
Still, there's something ironic about the fact that nothing seems hotter in this new digital age than old TV shows. Or even new versions of old TV shows.