Get Your First Look At Pixar's Next Short Film, 'Sanjay's Super Team'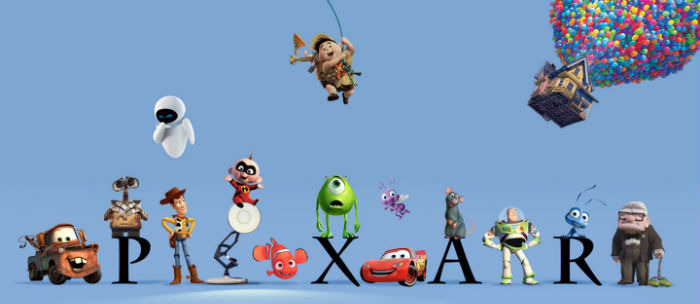 Almost as exciting as the release of a new Pixar feature is the reveal of the new Pixar short that accompanies each feature. Coming with this fall's The Good Dinosaur is Sanjay's Super Team, a seven-minute work about a little boy coming to understand his father's Hinduism. The first lovely bit of concept art from Sanjay's Super Team has just been released, and you can check it out after the jump.
The LA Times unveiled the first glimpse at the Pixar short Sanjays Super Team.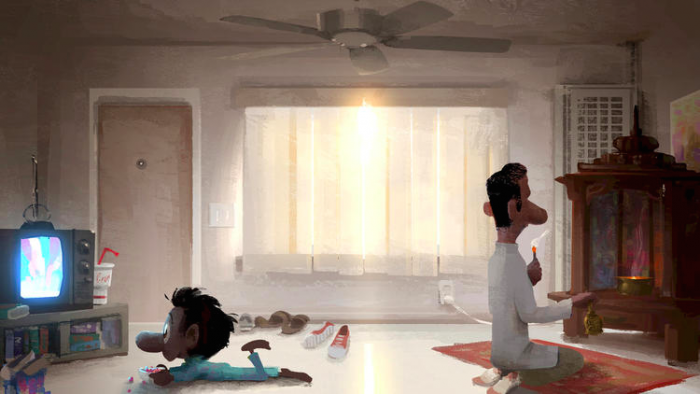 Pixar Animation Studios artist Sanjay Patel directed the short film. As the title suggests, it's based on his own experiences growing up as the son of Indian immigrants in San Bernardino, California. The LAT describes the premise of Sanjay's Super Team as follows:
The seven-minute short begins with young Sanjay watching cartoons and eating cereal in a bland, beige room as his father jingles a bell, beckoning him to join in meditation. Reluctant and bored by the ceremony, Sanjay begins daydreaming a kind of ancient, Hindu version of "The Avengers," with the gods appearing like superheroes. As the daydream progresses, the color, light and animation of the film grows increasingly dazzling and cosmic, and Sanjay grows closer to understanding his father's inner world.
Sanjay's Super Team sounds like a lovely way to explore a kid's conception of religion, as well as a kid's complicated bond with his parents. But it's a look at the specific challenges of being the child of immigrants, too. Patel admits it took him "a long time to feel safe" about his Indian identity, and hopes the new film will help other kids like him.
"If I could, I would go back to the 1980s and give my younger self this short," he said. "I want to normalize and bring a young brown boy's story to the pop culture zeitgeist. To have a broad audience like Pixar's see this ... it is a big deal. I'm so excited about that." As Cartoon Brew points out, Sanjay is Pixar's first non-white human lead. (Asian-American Russell from Up is a major character but not the protagonist.)
Patel has been with Pixar for many years, serving as an animator on projects like A Bug's Life, Toy Story 2, Monsters Inc., The Incredibles, Ratatouille, and Monsters University. He makes his directing debut with Sanjay's Super Team.
The short film is produced by Nicole Paradis Grindle (Toy Story 3, Monsters University) and features music by Mychael Danna (Life of Pi, Monsoon Wedding). Sanjay's Super Team will make its world premiere at the Annecy International Animated Film Festival in June, before arriving in theaters November 25 with The Good Dinosaur.