Batman Actor Ben Affleck Spotted On Set Of 'Suicide Squad'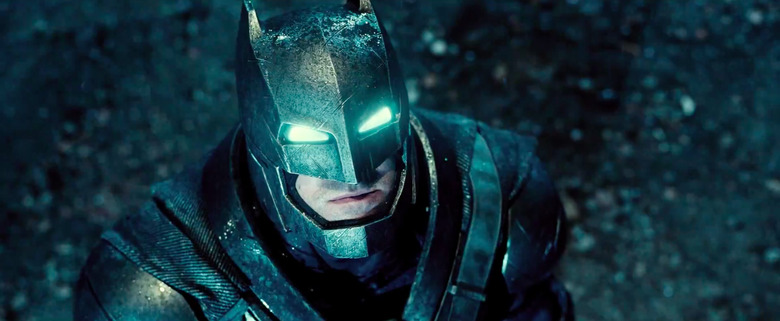 Rumors of Ben Affleck, either as Bruce Wayne or Batman, showing up in David Ayer's Suicide Squad have been floating for months. There's still no official announcement but if a photo says a thousand words, maybe this is good enough.
Not only was Affleck caught by paparazzi at the airport in Toronto, where the film is being shot, he was caught on set, with black and white hair a la the latest version of Bruce Wayne. Check out the Ben Affleck Suicide Squad photos below.
First up, here's an image of Ben Affleck at the Toronto airport. This could have meant anything. Maybe he was taking in a Blue Jays game.
BREAKING – Ben Affleck arrives in Toronto! Is he in town for #SuicideSquad? Read more – http://t.co/2Z3UBVHBMu #etalk pic.twitter.com/Di0EAFQEoV

— Etalk (@etalkCTV) April 28, 2015
But then these photos surfaced and all but confirmed that he's going to appear in the movie:
So Ben Affleck on the set of #SuicideSquad #BatmanvSuperman pic.twitter.com/FgjMTH6fpx

— Lindsay (@Steele131) April 28, 2015
That's almost certainly Affleck in Bruce Wayne garb on a film set, and the photographer says it's the Suicide Squad set.
As for the purpose of Affleck's visit, we don't know for sure. It's likely nothing more than a cameo as Ayer already has lots of other story to manage. We heard some rumblings of a relationship with Amanda Waller (Viola Davis) and Waller being in league with The Joker because he has some information about Batman. But this isn't Batman, it's Bruce Wayne. Who could he be in league with?
Suicide Squad is rumored to take place before Batman v Superman so maybe this cameo will tie into Wayne learning more about Superman. Maybe there's a connection to Lex Luthor. Or maybe we get a hint of Wayne learning about the Joker, which will set up an eventual solo film. The possibilities are endless.
Are you sold on the Ben Affleck Suicide Squad cameo? How do you think the character will fit in?
Suicide Squad opens August 5, 2016. Written and directed by David Ayer, it stars Will Smith, Jared Leto, Margot Robbie, Jai Courtney, Joel Kinnaman, Cara Delevingne, Adewale Akinnuoye-Agbaje, Viola Davis, Scott Eastwood, Ike Barinholtz, Adam Beach and Jim Parrack . It's the third film in the new DC expanded universe.
Additional sources: Cosmic Book, Screencrush