What A Lovely Day For One Last 'Mad Max: Fury Road' Trailer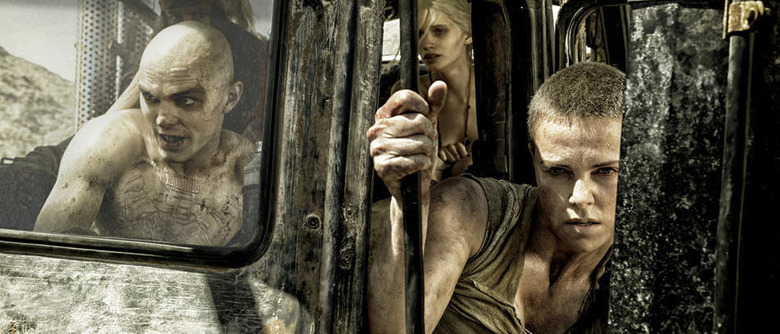 Tom Hardy's Max Rockatansky may be the one who gives Mad Max: Fury Road its title, but Charlize Theron's Furiosa is the one who takes center stage in the final trailer. A bit of new footage offers a better look at her prosthetic arm, as well as the fearless attitude that's kept her alive so far in this hellish landscape. Watch the Mad Max Fury Road final trailer after the jump. 
On paper, Mad Max: Fury Road sounds like more of the same. It's yet another action-packed sequel to a studio franchise, in a summer that's absolutely littered with those. But the marketing suggests we're in for really something cool and unique. The action is simply bonkers, the characters look wild and crazy, and the post-apocalyptic setting looks distinctly forbidding.
Directed by George Miller, Mad Max: Fury Road drops into theaters on May 15, 2015. Nicholas Hoult, Hugh Keays-Byrne, Nathan Jones, Zoë Kravitz, Riley Keough, Rosie Huntington-Whiteley, and Abbey Lee also star.
From Oscar-winning director George Miller, originator of the post-apocalyptic genre and mastermind behind the legendary "Mad Max" franchise, comes "Mad Max: Fury Road," a return to the world of the Road Warrior, Max Rockatansky. Haunted by his turbulent past, Mad Max believes the best way to survive is to wander alone. Nevertheless, he becomes swept up with a group fleeing across the Wasteland in a War Rig driven by an elite Imperator, Furiosa. They are escaping a Citadel tyrannized by the Immortan Joe, from whom something irreplaceable has been taken. Enraged, the Warlord marshals all his gangs and pursues the rebels ruthlessly in the high-octane Road War that follows. Miller directed from a screenplay he wrote with Brendan McCarthy and Nico Lathouris. Miller also produces, along with Doug Mitchell and P.J. Voeten. Iain Smith, Graham Burke and Bruce Berman serve as executive producers.