Female '21 Jump Street' Spinoff, 'Men In Black' Crossover In The Works [Updated]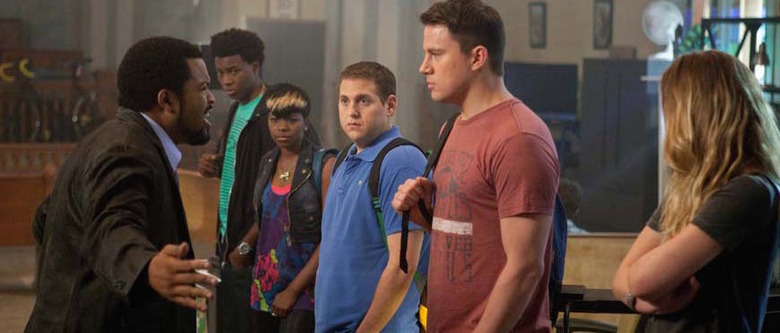 Update: TheWrap confirms Sony is moving forward with two new 21 Jump Street projects: a female-driven spinoff, and a Men in Black crossover. Original story follows.
First Sony announced an all-female Ghostbusters reboot, and then word came out of a male-led one. Now the studio may be going the other way with 21 Jump Street. According to a new rumor, a female 21 Jump Street spinoff is in the works, from Broad City scribes Lucia Aniello and Paul W. Downs. Read all about it after the jump.
Tracking Board is the source of this juicy new rumor, which we will caution you to take with a big grain of salt. It says something about Sony's recent strategy, though, that it seems plausible. One, it sounds similar to the strategy they're employing with Ghostbusters — two films, one for each gender. And two, Sony's recent strategy with their biggest properties seems to be to throw different versions at the wall until something sticks.
Anyway, the word is Sony has hired Aniello and Downs to write the screenplay, which will have the same tone as the big-screen 21 Jump Street reboot starring Jonah Hill and Channing Tatum. Which I assume means we're in for a lot of meta humor and odd-couple shenanigans.
Plot details on the possible female 21 Jump Street reboot haven't been revealed. One obvious starting point would be the rival undercover team featured in the first film, played by Dakota Johnson and Rye Rye. That concept would be especially promising now that Fifty Shades of Grey has turned Johnson into a much bigger star. But I'm just speculating here.
A female 21 Jump Street spinoff sounds intriguing, especially if Aniello and Downs are going to be involved. Aniello and Downs are co-producers and writers on Comedy Central's Broad City. Downs also co-stars on the show as Trey the trainer, and Aniello has directed several episodes. Their other collaborations include the Emmy-themed shorts "Life After Emmy" and "Emmy Training Day."
Meanwhile, the straightforward sequel 23 Jump Street continues to press forward with screenwriter Rodney Rothman. Hill and Tatum are expected to reprise their roles as Schmidt and Jenko. Story details are being kept under wraps, but the idea is to make all of those fake sequels canon, somehow. On top of that, a Men in Black crossover may or may not still be on the table.