'Ted 2' Red Band Trailer And Poster: Porn, Drugs And Tom Brady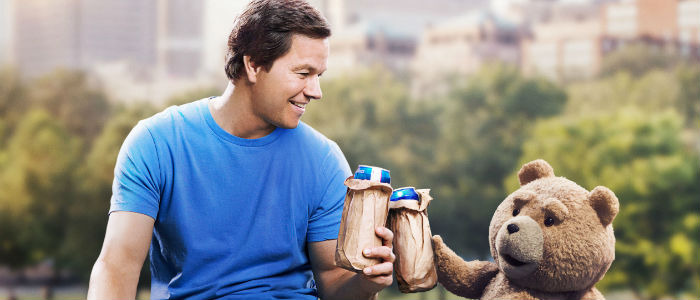 The truest selling point of a Seth MacFarlane film is its red-band trailer. That's where the writer/director's humor is on full display and you're about to get a lot of it in the latest Ted 2 trailer. It's red-band, so the language is VERY not safe for work and it's right in that MacFarlane wheel house: bodily fluids, drugs, race and lots of sex.
In Ted 2, Ted and John (Mark Wahlberg) continue to move on with their lives and Ted wants to start a family. Unfortunately, the law says he can't because he's not considered a person. So begins a legal battle for Ted's civil rights lead by lawyer Samantha L. Jackson (Amanda Seyfried). In the Ted 2 red band trailer, there are a bevy of jokes, including some almost full sequences that certainly position the sequel as a likely Summer hit. But will it be as funny or original as the first? Watch and figure it out below.
Here's the trailer via Universal.
Ted 2 Red Band Trailer
And here's a new poster, as well as some images.
I was a huge fan of the first Ted and this film looks very much like its predecessor. But, to me, that's the issue. Sure there's a different story with some different characters, but Ted 2 looks a whole lot like more of the same. Comedy sequels are so difficult because audiences want what they loved about the first film but the filmmaker has to justify something new. I'm not sure MacFarland is going to pull that off here, even with some really funny gags. The Tom Brady bit is great, and the final joke in this Red Band legitimately made me laugh. But if it's just the two guys running around, getting in trouble and all that, what's the point?
Are you looking forward to Ted 2? What did you think of the Ted 2 red band trailer?
Ted 2 opens June 26.