'X-Men: Apocalypse' First Look: See Kodi Smit-McPhee As The New Nightcrawler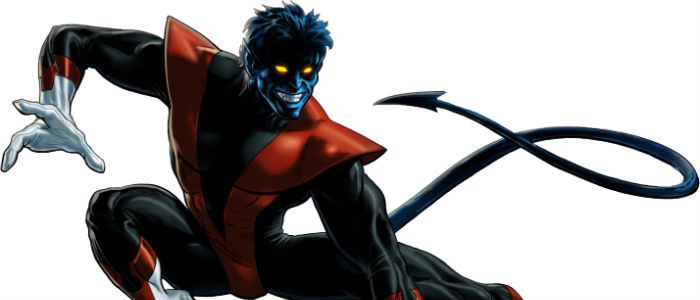 X-Men: Apocalypse promises to bring us whole new versions of some classic characters. And as shooting begins today, we have our first look at one of them. Director Bryan Singer has unveiled an image of Kodi Smit-McPhee as Nightcrawler, the teleporting blue mutant who was played by Alan Cumming in 2003's X2. Take a peek at the X-Men Apocalypse Nightcrawler after the jump.
Singer shared the photo of Smit-McPhee as the X-Men Apocalypse Nightcrawler on Instagram. That original Instagram post and tweet been taken down for some reason, but you can still see it via the official X-Men Movies Twitter. Click that link.,
But here's a still look:
Well, he's blue, all right. There's not a lot we can learn about the character from such a brief look, but it's still exciting to see a new version of this popular character coming to life.
Since X-Men: Days of Future Past basically rendered the entire original X-Men trilogy irrelevant, Smit-McPhee's Nightcrawler is essentially starting with a clean slate. It should be interesting to see how his Nightcrawler differs from the previous one.
Singer also shared a couple of cute photos of himself visiting Washington, D.C. with the new Jean Grey (Sophie Turner) and Cyclops (Tye Sheridan), but they aren't in character here.
Paying respect. @iamtyesheridan @sophie_789 A photo posted by Bryan Singer (@bryanjaysinger) on
And writer Simon Kinberg posted a photo from the set, featuring a cute little nod to another blockbuster franchise.
Day 1 of the Apocalypse.... Back to the 80s.... pic.twitter.com/0ecjnXX23l

— Simon Kinberg (@Kinberg) April 27, 2015


X-Men: Apocalypse also stars Alexandra Shipp as Storm, Olivia Munn as Psylocke, Lana Condor as Jubilee, Ben Hardy as Angel, and Oscar Isaac as the titular Apocalypse.
Returning from the previous films are James McAvoy as Professor X, Michael Fassbender as Magneto, Jennifer Lawrence as Mystique, Nicholas Hoult as Beast, Rose Byrne as Moira MacTaggert, Evan Peters as Quicksilver, and Lucas Till as Havok.
X-Men: Apocalypse arrives May 27, 2016.