Disney's 'Descendants' Trailer: Disney's Villains Send Their Kids To Prep School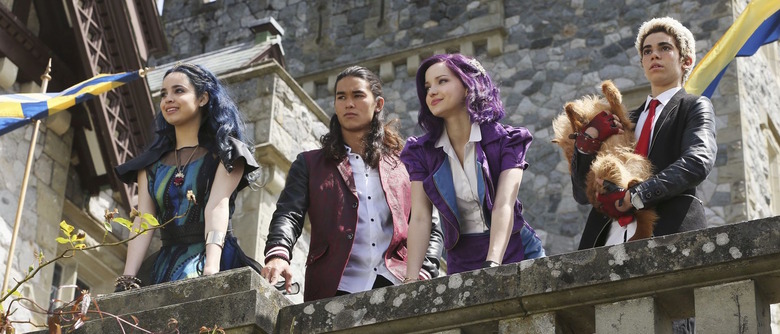 Last year, Maleficent gave us the untold story of one of Disney's most iconic villains. This year, Descendants offers the untold story of Maleficent's bratty teenage daughter Mal — as well as the kids of Jafar, the Evil Queen, and Cruella de Vil.
In the Disney Channel original movie, Mal (Dove Cameron), Jafar's son Jay (Booboo Stewart), Cruella de Vil's son Carlos (Cameron Boyce), and the Evil Queen's daughter Evie (Sofia Carson) are sent to prep school to mingle with the children of other, less villainous Disney characters. Watch the Disney Descendants trailer after the jump.
Disney unveiled the Descendants trailer on YouTube.
This looks cheesy as hell, but back when I was in the correct target demographic for this movie (i.e., kids and tweens) I would have eaten this up. So good job, Disney.
The villains themselves are played by some familiar faces including Kristin Chenoweth (Maleficent), Wendy Raquel Robinson (Cruella de Vil), Kathy Najimy (Evil Queen), and Maz Jobrani (Jafar). There are also new versions of Disney heroes like Beauty and the Beast and Snow White, in case you're a Disney completist and need to see them all.
Disney's Descendants will air this summer on the Disney Channel. Kenny Ortega (High School Musical) directed.
Disney's Descendants takes place in a present-day idyllic kingdom, where the benevolent teenaged son of the King and Queen (Beast and Belle from Disney's iconic Beauty and the Beast) is poised to take the throne. His first proclamation: offer a chance at redemption to the trouble-making spawn of Cruella De Vil, Maleficent, the Evil Queen and Jafar who have been imprisoned on a forbidden island with all the other villains, sidekicks, evil step-mothers and step-sisters. These villainous descendants (Carlos, Mal, Evvie and Jay, respectively) are allowed into the kingdom to attend prep school alongside the offspring of iconic Disney heroes including Fairy Godmother, Sleeping Beauty, Rapunzel and Mulan. However, the evil teens face a dilemma. Should they follow in their nefarious parents' footsteps and help all the villains regain power, or embrace their innate goodness and save the kingdom?