'Testament Of Youth' U.S. Trailer: Alicia Vikander And Kit Harington Are Torn Apart By World War I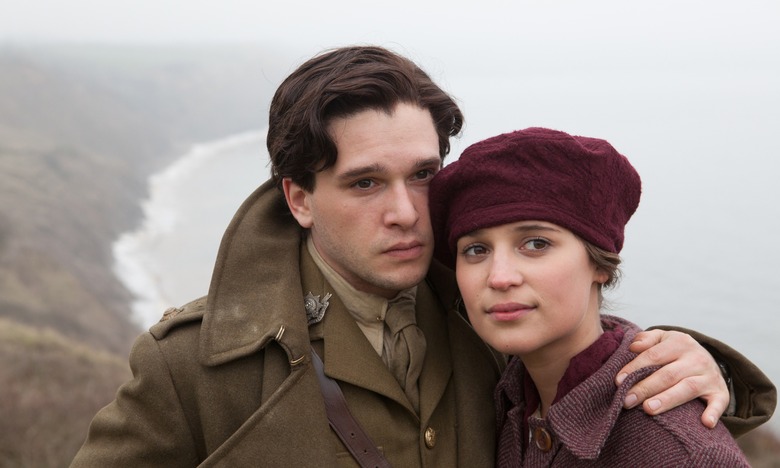 Alicia Vikander's year got off to a rough start with the long-delayed Seventh Son, before course-correcting with the excellent Ex Machina. But she's still not done — far from it.
Her next big role is this summer's Testament of Youth, a World War I romance with fellow up-and-comers Kit Harington (Game of Thrones) and Taron Egerton (Kingsman: The Secret Service). Watch the Testament of Youth US trailer after the jump.
Yahoo debuted the Testament of Youth US trailer.
Directed by James Kent (The White Queen) and scripted by Juliette Towhidi (Love, Rosie), Testament of Youth is an adaptation of Vera Brittain's World War I memoir of the same name.
Vikander plays Vera, an Oxford student who falls deeply in love with fellow scholar Roland Leighton (Harington). Vera and Roland's lives are irrevocably changed, however, when World War I breaks out. Roland and Vera's brother Edward (Egerton) ship out to war, and Vera, unwilling to sit idly by as her friends give their lives, volunteers to serve as a nurse.
Despite the title, Testament of Youth looks like an old-fashioned wartime romance, but that's not a bad thing. There's enough passion and personality here to keep it from feeling too stuffy. Vikander looks excellent as always, and Harington gets to show some range by trading in his curly hair and Jon Snow frowns for straight hair and the beginnings of a smile.
Testament of Youth opens June 5 in the U.S. Colin Morgan, Dominic West, Emily Watson, and Hayley Atwell also star.
Testament of Youth is a powerful story of love, war and remembrance, based on the First World War memoir by Vera Brittain, which has become the classic testimony of that war from a woman's point of view. A searing journey from youthful hopes and dreams to the edge of despair and back again, it's a film about young love, the futility of war and how to make sense of the darkest times.