'The Visit' Trailer: Kid, Don't Get In That Oven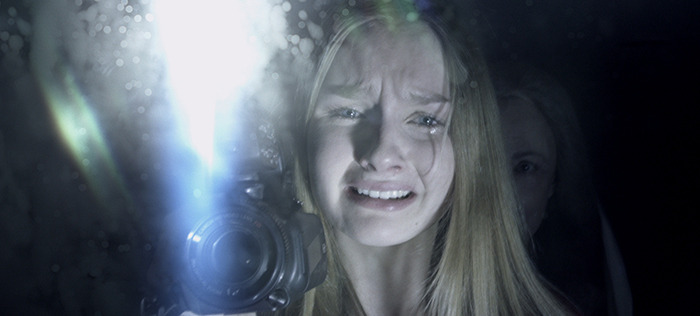 What if the gingerbread house witch in the story of Hansel and Gretel was the kids' actual grandmother? That concept looks like part of the inspiration for The Visit, the new film from writer/director M. Night Shyamalan. In the film, two siblings are sent off to visit their grandparents, and while the strictly-enforced 9:30pm bedtime seems weird right off the bat, the kids soon find that something is very definitely not right. There are late-night noises, strange behavior, and eventually some much weirder goings-on.
Check out The Visit trailer below. There's even the beginning of a "kid in the oven" scene here, just to tie up the connection with the old Brothers Grimm tale.
My first question after watching this trailer is: "so, is The Visit found-footage, or not?" We know the movie teams Shyamalan with Jason Blum, known for found-footage horror, and this trailer definitely has some found-footage hallmarks. But at other times it appears to be shot like a traditional film.
Also, while there could well be a twist of some kind towards the end of this film, the trailer makes The Visit look like a straight-up thriller – there's really no disguising how weird this situation is. So that could be different.
Trailer via Universal. The Visit opens in September.
Writer/director/producer M. Night Shyamalan (The Sixth Sense, Signs, Unbreakable) and producer Jason Blum (Paranormal Activity, The Purge and Insidious series) welcome you to Universal Pictures' The Visit. Shyamalan returns to his roots with the terrifying story of a brother and sister who are sent to their grandparents' remote Pennsylvania farm for a weeklong trip. Once the children discover that the elderly couple is involved in something deeply disturbing, they see their chances of getting back home are growing smaller every day.
Shyamalan produces The Visit through his Blinding Edge Pictures, while Blum produces through his Blumhouse Productions alongside Marc Bienstock (Quarantine 2: Terminal). Steven Schneider (Insidious) and Ashwin Rajan (Devil) executive produce the thriller.