Bruce Campbell Says 'Ash Vs Evil Dead' Won't Be "A Watered-Down Version Of Evil Dead"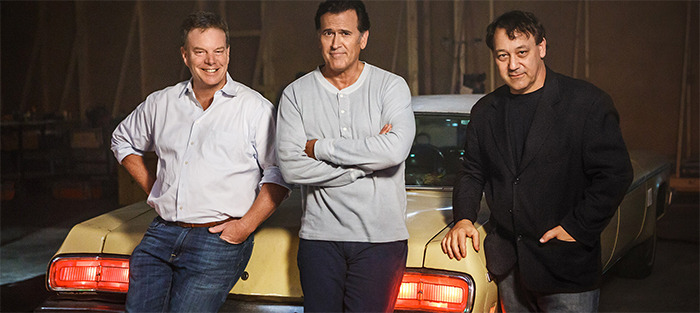 The Ash vs Evil Dead TV series has begun production in New Zealand, and the first behind the scenes photo featuring the producers, director and star also features a super-important returning character: the 1973 Delta 88 that has been in nearly every Sam Raimi movie to date. Along with that image, which you can see in larger form below, we have a handful of new facts about the show, straight from the creative trio of Raimi, Robert Tapert, and Bruce Campbell.
We have many details below, but perhaps all you need is this statement from Campbell, who promised "This is not going to be a watered down version of Evil Dead. ...[The fans] want the hardcore stuff, and they're going to get it."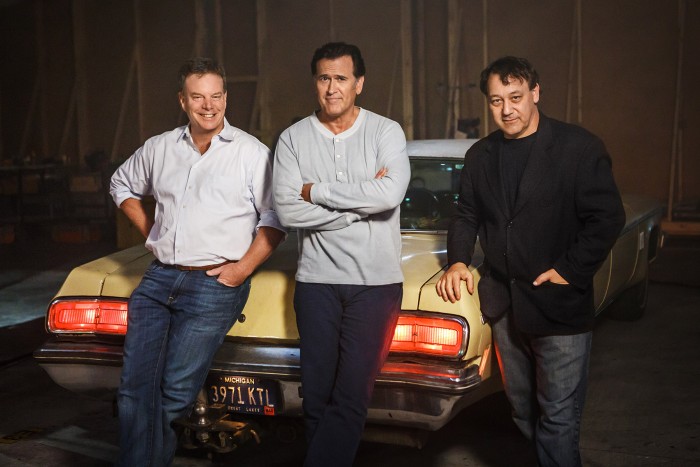 Collider took part in a call that featured Sam Raimi (pilot director, co-writer, producer), Bruce Campbell (star, producer) and Robert Tapert (producer).
Raimi said that this show "doesn't really exist in the exact same universe [as the movies]. It's a slightly altered universe. It takes place somewhere in an alternate universe after Evil Dead 2."
And yet Army of Darkness still kind of exists for Ash. "Army of Darkness, does it exist? Well, certainly Ash went through that experience. We're not referencing specifics from that, but he certainly has that in his memory."
The show takes place 30 years after we last saw Ash (however that reconciles with the "alternate universe" idea) and Raimi says, "The Deadites have been fairly dormant over the last 20-30 years and Ash has been living a low life, hiding out. Our story really begins when they come back and someone is needed to stand up against them."
In the past, Ash's bumbling has been part of the reason the Deadites return, and "of course" that's the case once again for this series. But don't expect time travel to be a part of the story this time — at least, the first eight episodes of the show don't feature it. "We haven't really discussed episodes 9 and 10 so much," says Tapert, so the end-game isn't set.
Campbell says that Ash is "a basket case," and that he is "potentially damaged goods." Accordingly, Raimi noted that the series will blend tonal approaches from all three of his Evil Dead films.
What we tried to do is go back to the horror of the first and second Evil Dead, but with the character that Bruce created over the second and third Evil Dead. We're really a combination; something we haven't quite seen before.
There's a lot more at Collider.
Ash vs Evil Dead is set to premiere on STARZ in fall 2015.
In Ash vs Evil Dead, Campbell will be reprising his role as Ash, the stock boy, aging lothario and chainsaw-handed monster hunter who has spent the last 30 years avoiding responsibility, maturity and the terrors of the Evil Dead.  When a Deadite plague threatens to destroy all of mankind, Ash is finally forced to face his demons –personal and literal.  Destiny, it turns out, has no plans to release the unlikely hero from its "Evil" grip.
The cast is led by Bruce Campbell (Evil Dead, "Burn Notice") in the role of Ash Williams, Lucy Lawless ("Salem," "Spartacus") as Ruby a mysterious figure who believes Ash is the cause of the Evil outbreaks, Ray Santiago ("Touch," Meet the Fockers) as Pablo Simon Bolivar, an idealistic immigrant who becomes Ash's loyal sidekick, Dana DeLorenzo (A Very Harold & Kumar 3D Christmas) as Kelly Maxwell, a moody wild child trying to outrun her past and Jill Marie Jones ("Sleepy Hollow") as Amanda Fisher, a disgraced Michigan State Trooper set to find our anti-hero Ash and prove his responsibility in the grisly murder of her partner.
Raimi is directing the first episode of "Ash vs Evil Dead" that he wrote with Ivan Raimi (Darkman, Army of Darkness, Drag Me to Hell), Craig DiGregorio ("Workaholics," "Chuck") and Tom Spezialy ("Chuck," "Reaper," "Desperate Housewives"). Raimi will also serve as executive producer, with Rob Tapert (Evil Dead, "Spartacus," Xena: Warrior Princess") and Bruce Campbell (Evil Dead, "Burn Notice") along with Craig DiGregorio ("Workaholics," "Chuck") who will serve as executive producer/showrunner. Ivan Raimi will co-executive produce and Aaron Lam ("Spartacus") and Chloe Smith ("Spartacus") will serve as producers.