'Teenage Mutant Ninja Turtles 2' Adds Tyler Perry As Baxter Stockman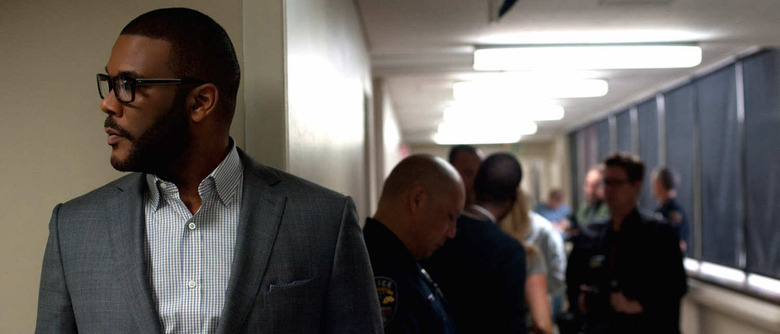 Teenage Mutant Ninja Turtles 2 is going to be a Tyler Perry movie. But don't worry, that doesn't mean the amphibian warriors are getting a dressing down from Madea. Perry is playing Baxter Stockman, a scientist whose inventions spell trouble for Master Splinter. Learn more about the Ninja Turtles Tyler Perry casting after the jump. Variety reported the news. Perry joins Megan Fox and Will Arnett, who reprise their roles as April O'Neil and Vernon Fenwick from the first film. Also on board is Stephen Amell (Arrow), who was cast last month as hockey-themed vigilante Casey Jones.
We also know Victoria's Secret model Alessandra Ambrosio is making a cameo appearance as herself. Classic Turtles characters Bebop and Rocksteady are expected to appear but haven't yet been cast.
In broad strokes, Baxter Stockman is a scientist who invents the Mousers — machines designed to seek out and destroy sewer rats. In most iterations he works with Shredder, who wants to use the Mousers to target Splinter. The character made a brief appearance in the last Teenage Mutant Ninja Turtles movie, where he was played by K. Todd Freeman.
Perry is a franchise unto himself. Most of his roles have been in films he's also directed, written, and/or produced, like The Single Moms Club and A Madea Christmas. But he does branch out as an actor from time to time in films like Alex Cross and Star Trek.
Most recently, he stole scenes as Ben Affleck's slimy lawyer in Gone Girl. His performance made me want to see Perry do more dramatic work, though Teenage Mutant Ninja Turtles 2 wasn't exactly what I had in mind.
Michael Bay is producing Teenage Mutant Ninja Turtles 2 along with Brad Fuller and Andrew Form. David Green is directing, and Josh Appelbaum and André Nemec are writing the script. Production begins next month for a June 3, 2016 release.